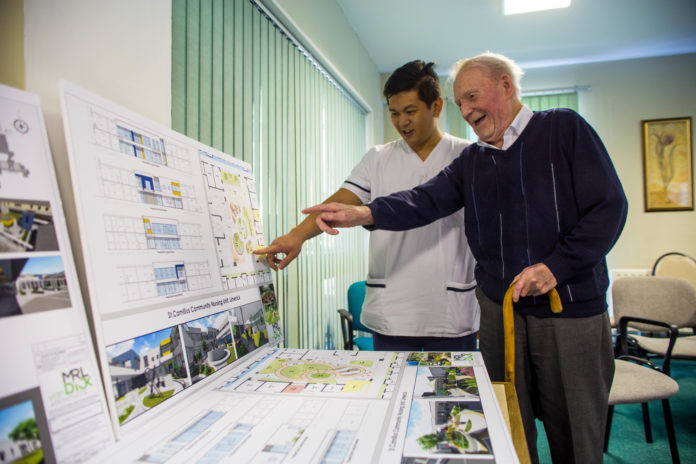 PLANS for a new €18.9 million state of the art facility to cater for 75 long stay residents at an estimated cost of €18.96m at St Camillus Hospital will be lodged for planning permission in September.
The beds will replace the existing long stay beds on the site. The project is part of the 2016 Government approved programme to bring long stay public care facilities up to the highest standard. The development includes 63 single and 6 twin rooms.
The detail of the plans were unveiled by HSE Mid West Chief Officer, Bernard Gloster, Head of estates manager Clodagh Hanratty and Van Dijk/Milligan Reside Larkin Architects
Cathal Maguire, current resident of St Camillus's Michael Mc Inerney said, "It's going to be a massive place, a real five-star place. Everything here is carried out to perfection and the place is always spotless."
St. Camillus currently has 121 beds, 22 for rehabilitation and stroke, 21 for later life psychiatry, 78 for care of the elderly and it is these beds that are the focus of this project.
HSE Mid West Chief Officer, Bernard Gloster said "this is a very significant milestone in the life of health and social care in the City. All focus now is on securing planning permission and commencing works hopefully in 2019.
"My hope is that what we are doing is changing a building and we are adding to the quality of the care we deliver today. The built environment will have an impact on peoples' ability to have their own space, their recreation space, to have more adequate sleeping space and living space, communal areas and light in this new building is important.
"These are not additional beds, they are replacement beds. We have approval to apply for planning I have no doubt that this project will be built and open with our residents living in it by the end of 2021."
The existing site can be traced back to 1841 and the workhouse era. The current St. Camillus was built in 1933 together with a mix of the 1841 buildings.
Senator Maira Byrne, "My first impression is that it's very welcoming, the fact that it's going to be long term residential care for a lot of people, it's very important that they be made feel at home. The colours are very calming, there is a lot of space and a lot of light, and to me it looks to be a very safe environment."
Senator Kieran O'Donnell said, "They are magnificent plans. A modern service for a modern city. They will be a huge addition to the care of the elderly in Limerick City. I want to commend Bernard Gloster and all his team on the fantastic work to date.
"What really struck me about it when I was looking at the plans was the level of light, the interactive nature of it, it's really cutting edge. It's in the heart of Limerick city and it caters for people both in all areas of the city and county moving into a modern age."
Jan O' Sullivan TD said, "Plans for a new 75 bed unit in St. Camillus's, announced by the Fine Gael Government in 2016 are now closer to fruition and will provide the kind of surroundings that our senior citizens deserve.
"The design is really impressive with outdoor space and lots of light. I have every confidence that it will be delivered on time by 2021. I would like to pay tribute to the team, led by Bernard Gloster, and to the caring staff in St. Camillus's."
People will be able to call to reception at the Hospital on Monday August 24 between 2pm and 5pm to view the architect's impressions and leave a comment if they wish.