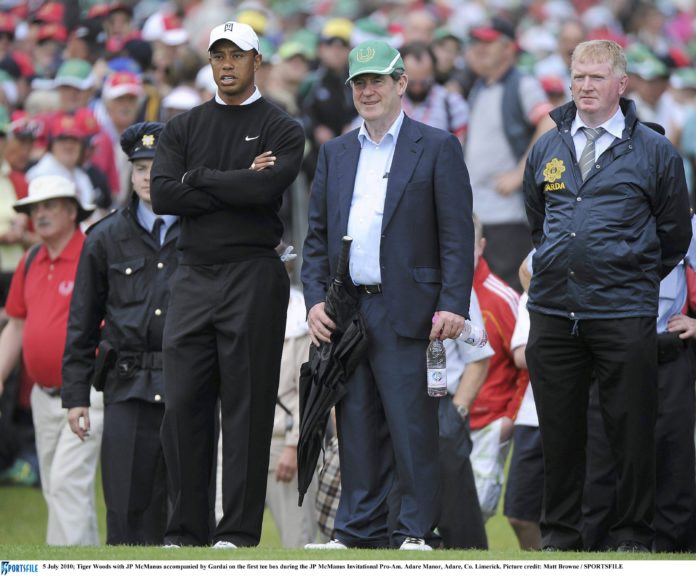 Tiger Woods "It was a pretty cool result last weekend for JP & Limerick"
Arguably the greatest golfer of all time, Tiger Woods has extended his congratulations to the Limerick hurling team after their thrilling All Ireland triumph on Sunday. Woods who has won 14 Major championship wins to his credit, is a long time friends of JP McManus. Speaking to the 'Golf, by TourMiss' website, Woods said,
"JP is one of my dearest friends and it's cool his Limerick team finally won the title as I know how passionate he is about his hurling as well as his love of horse racing and, of course, golf.
Sign up for the weekly Limerick Post newsletter
"I remember one year I was over for his Pro-Am and JP took me to a hurling match. I thought it was pretty neat but not a sport I would want to try,"
"I try to keep in contact with him as much as our time allows but that's great news for JP and Limerick and I'm really pleased for him as JP just does so much for sport in Ireland."
JP's commitment to the Limerick cause is clear to all as he is a long-time sponsor of the team under the Sporting Limerick branding. McManus was able to make his way into the Limerick dressing room after the game to finally get his hands on the Liam McCarthy Cup. Woods also confirmed that he will be appearing at the Adare Manor in 2020 for JP'S Pro-Am.
"I'm not sure when we'll catch-up next but I do know I am looking forward to going back to Ireland in 2020 for his Pro-Am at Adare Manor as it's been a long time since we played the Pro-Am."
"But as I said, it was a pretty cool result last weekend for JP and Limerick and my congrats to them."
The post Tiger Woods "It was a pretty cool result last weekend for JP & Limerick appeared first on Sporting Limerick.