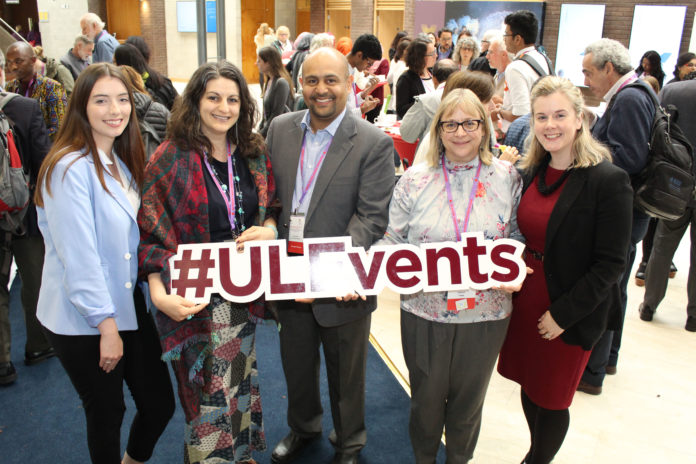 The University of Limerick led by Dr Khalifa Elmusharaf, GEMS Senior Lecturer in Public Health and Dr Anca Minescu, EHS Assistant Dean International collaborated with the Network Towards Unity for Health (The Network: TUFH) to host an international conference from August 15 -20.
UL Conference & Events welcomed delegates from 110 universities and 30 organizations from 50 countries from around the world to discuss Community Empowerment for Health.
These delegates from a range of backgrounds including academia, health organisations, and local and civil societies, aiming to return to their own communities and implement opportunities for others to become more informed and influential by giving them the confidence, skills, resources, and power to shape and influence their own health.
Dr Khalifa Elmusharaf said, "The main outcome of the conference is Limerick Declaration on Community Empowerment. It declares that community empowerment goes beyond the traditional methods of listening, information sharing and consultation. It involves a change in power relations and enabling people to have more control, and responsibility, for their own health. This declaration is a call of action on educational institutes and organizations worldwide to lead the change process for community empowerment and social accountability. The declaration also calls on educational institutes to include the student voices in the change process."
During the conference, keynote speeches, interactive thematic sessions, mini-workshops, and site visits to local organisations, delegates learned and shared their experiences and discussed how educational institutions and organizations could lead the change process to provide empowering opportunities for communities and underrepresented sectors in the society.
Dr Anca Minescu, Assistant Dean International, Faculty of Education and Health Sciences, University of Limerick commented, "The conference is run in the spirit of sharing and learning from each other, each other's profession,  each other's projects and each other's country and culture. This engagement resonates deeply with the ethos of the University of Limerick, where we prioritize being part of the city and region as well as working together with communities."
Deborah Tudge, Academic Conference Manager for UL Conference and Events said, "We are delighted that the University of Limerick Conference and Events Team, together with the Graduate Entry Medical School, UL, and The Network: Towards Unity for Health (TUFH), could host, organise and deliver a rich and diverse cultural experience for our international delegates, and that the event was such a resounding success."
Delegates also engaged with many local charities during a 'Conference on the Move' day, where sixteen different morning visits were arranged to local organisations such as Doras Lumni, Rape Crisis Centre, and Novas. The delegates also spent the afternoon at several different tourist attractions including Thomond Park, King John's Castle and Lough Gur Heritage Centre.
Karen Brosnahan of the Shannon Region Sports and Conference Bureau added, "The Bureau was delighted to work with Dr Khalifa Elmusharaf and Dr Anca Minescu on the bid for this prestigious event. It was a fantastic win for Limerick to have so many medical delegates visiting The Graduate Entry Medical School in the University of Limerick. The aim of the Bureau is always to share the best of our region and its people with the world and we were honoured and thrilled to be able to achieve this."
Fáilte Ireland also supported Dr Khalifa Elmusharaf and Dr Anca Minescu in their bid to bring the event to Shannon, through its Conference Ambassador Programme which supports individuals who want to host an international conference in Ireland, and provides assistance and financial support at every stage of the event.
Fáilte Ireland's Meet in Ireland Manager, Ciara Gallagher, added, "Three out of four international association conferences that come to Ireland do so at the direct invitation of a local Irish member or host, something which Fáilte Ireland maximises through our Conference Ambassador programme. Dr Khalifa Elmusharaf and Dr Anca Minescu have been great Conference Ambassadors, bringing the Network Towards Unity for Health's international conference to Limerick. The Shannon region is steadily growing its reputation internationally as a centre of excellence in science, health, and education. Conferences like this are not only important in terms of generating significant revenue for the region, they also leave a lasting legacy in terms of being recognised as leaders in this field. We look forward to continuing our good work with the Shannon Region Sports and Conference Bureau and are always looking to recruit expert Conference Ambassadors to help bring future business like this to all parts of Ireland."
To find out more about the Conference Ambassador Programme, visit www.meetinireland.com/conferences/ambassador-programme. For more information please contact Karen at [email protected]