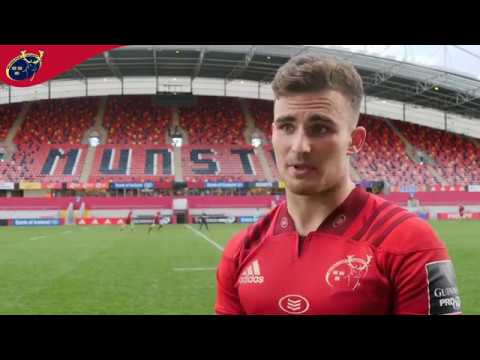 WATCH: "I loved every minute of it"- Shane Daly describes Munster debut.
Cork's Shane Daly first rose to prominence with the Ireland U20s side that reached a World Cup final. Since he has been capped internationally for the Irish Men's 7s side and on Saturday the Munster Academy man made his Guinness Pro 14 debut in front of a packed Thomond Park crowd. Speaking after the game, Daly was delighted with the sides performance and his overall experience of his debut.
"Yeah it was amazing. Unbelievable to play in front of such a big crowd. My first 15s game in a few months and I loved every minute of it. I had the whole family behind me there so it's not easy to do this but it was amazing, I loved it."
Daly impressed on the wing for Munster and showcased his unbelievable speed late on to ensure Munster would keep their South African opponents scoreless for the duration of the game.
https://twitter.com/eirSport/status/1035941339630850048
With such a stacked Munster squad, Daly is aware that performances like that on Saturday must be continued if he is to get his chance throughout the season.
"All you can do is your best when you get your opportunity. There's so many lads putting there hands up like Darren Sweetnam today had an unbelievable game today, man of the match again."
"There's so many good players in the squad at the minute, you just have to do your best when you get the opportunity. There's massive competition for places over the next few weeks and that makes the squad stronger."
See the full interview with Daly below courtesy of the MunsterRugby YouTube channel.
The post WATCH: "I loved every minute of it"- Shane Daly describes Munster debut appeared first on Sporting Limerick.