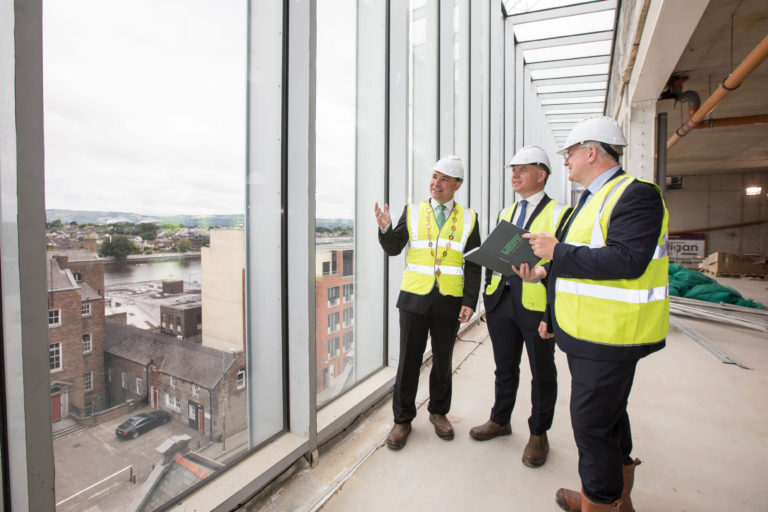 ONE of the world's biggest aircraft leasing companies is set to become the first occupant of the Gardens International development in Limerick city centre.
Nordic Aviation Capital (NAC), currently located on Henry Street, will move its 80 staff to the former Hanging Gardens site to allow for future expansion.
Currently the fourth largest commercial aircraft leasing company, NAC has returned a 22nd consecutive year of profits amid strong financial performance by adding $90 million to its previous year-end lease revenue of $690 million.
At the end of June, NAC had a $6.3 billion portfolio of 426 aircraft and 71 clients across 48 countries as the company added 79 aircraft to its fleet with further purchase commitments for 84 more aircraft.
NAC's customers include British Airways, Air France, Lufthansa, LOT Polish Airlines, Alitalia and Dublin based Stobart Air (operator of Aer Lingus Regional) among others.
NAC employs 220 people with offices in Denmark, United States, Canada, Singapore and a newly opened office in Hong Kong.
Chief Commercial Officer Jim Murphy said that the results show that "our strategy is on target and our Irish operation is a key part of our global success."
"In 2018, we completed a significant number of transactions from single aircraft to large portfolio acquisitions.
He said that NAC continues "to secure major deals with regional airlines as well as some of the world's largest airlines, consolidating our presence in the regional aircraft leasing space as one of largest aircraft leasing firms."
Chief executive Søren Overgaard said that NAC's continued success is driven by its investment in assets and infrastructure, as well as its global team's expertise and their deep knowledge of their customers and markets.
"Our ability to identify best-in-class aircraft at competitive prices and our exceptional execution abilities have allowed us to build fleet strength for immediate, as well as future, business growth.
"Ultimately, our success is built on our people. We have continued investing in developing the skills needed for the regional aviation industry and because of our people, we can deliver continued growth and profitability."