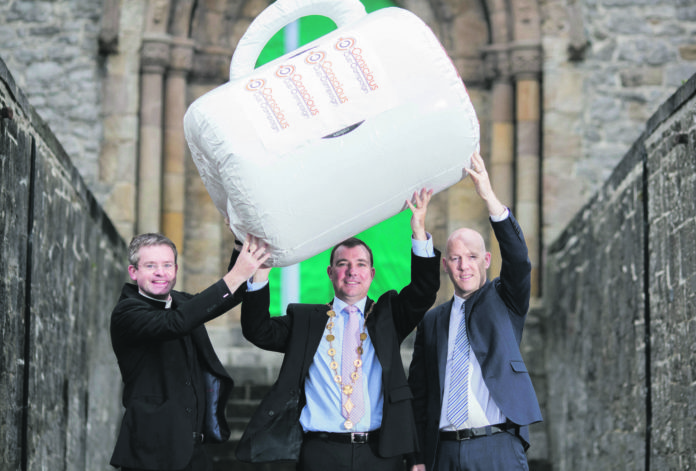 THE green theme that has swept Limerick over the past few weeks is continuing with the launch of The King's Island Conscious Cup Campaign which aims to reduce and eventually eliminate single-use cups.
The central focus of the campaign is to encourage people to switch to reusable cups with businesses offering an incentive in return.
Because of the combination of plastic and paper in their design, disposable coffee cups are virtually impossible to recycle. An estimated 200 million of these non-recyclable cups are disposed of in Ireland every year.
Staff of the Environment Awareness department of Limerick City and County Council have contacted every relevant business on King's Island to see if they would be willing to be part of the campaign.
Nine local businesses have registered with the campaign and are offering a 20 cent discount on take out coffee for anyone who brings their own reusable cup. They are Abbey Bridge Café, Absolute Hotel, Katie Daly's, King John's Castle, Limerick City and County Council, The Locke, Stix, Nelly's Corner and Tracey's while a 5 cent discount is offered at St Mary's Community Café.
Mayor James Collins said that preventing waste and litter was a key part of managing the impact of litter and waste on the environment.
"The Conscious Cup Campaign is an excellent national initiative and I am delighted to see the business on King's Island coming together to support it," he said.
Dean of St Mary's Cathedral the Very Reverend Niall J Sloane said the cathedral community was delighted to support and work on the initiative with their partners on King's Island and the wider Limerick community.
Environmental Awareness Officer Sinead McDonnell said the Conscious Cup Campaign would bring a renewed focus on reuse and waste and litter prevention for Limerick businesses and citizens.
Limerick City Tidy Towns group chairperson Helen O Donnell said the King's Island initiative would form a definite action for the City's 2019 Tidy Towns application.
"It's heartening to see that the businesses have been so receptive and willing to be part of the campaign. It will benefit everyone in the long run," she said.
Once a business registers with the Conscious Cup Campaign, they must list on their pricing displays that they accept reusable cups and train staff to give a discount to those using a reusable cup.
Other Limerick businesses include The Hunt Museum Café, Chez Le Fab, Creed's Shop in Elton, and the Green Onion in addition to all Butlers, Café Noirs, BBs, Applegreens, Starbucks and Insomnia cafes in the city.
More details at www.consciouscup.ie or by emailing [email protected]
by Tom McCullough
[email protected]