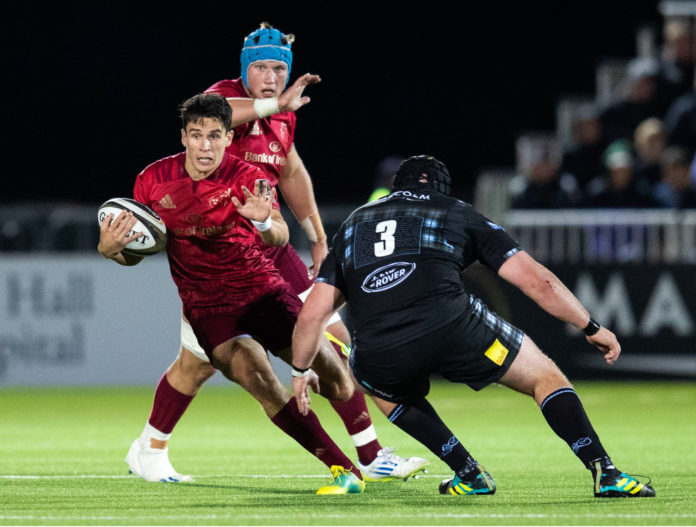 Carbery settling into life at Munster
Joey Carbery's move to Munster from Leinster caused shockwaves around Irish rugby but the out-half is keen to get down to work as the team prepares for a game against Welsh side the Ospreys on Friday.
Carbery has come off the bench in Munster's two games in this season's Guinness Pro14 and is adapting well to his new surroundings.
"I'm really enjoying it," said Carbery at Munster's High Performance Centre today. "It's a great environment to be in. Everybody is pretty hungry to improve and get going into the season. It's a pretty exciting buzz around the place.
"Nearly every second guy you walk past is wearing some sort of Munster kit. I think it's great, I think it's cool. People coming up and shaking your hand and welcoming you.
"I have been welcomed across the board. Dublin is getting a lot bigger in rugby as well but I think it's almost like a religion down here in some places."
Carbery's move from the capital centred around having more game time in his favoured position of number 10 and with Johnny Sexton the preferred man in Leinster, opportunities in a World Cup season had to be explored.
He admits that it was a tough situation to be in but that he has no regrets with regard to the decision to become part of Johann van Graan's squad.
"It was a tricky enough time. There was a few options given to me. I met with Johann after Leinster v Munster in the RDS and then met with him again. We kind of just chatted and I felt it was the best option for me.
"Obviously I wanted to be playing more and get out of the shadow of Johnny (Sexton). I'm very happy with the move. I'm loving it down here and there have been no second guesses or anything which shows that I have made the right move.
"The big thing for me was getting game time. It's tough sitting on the bench all the time. All you want to be doing is going out there playing. You work so hard during the week and that was a big indicator as well.
"There is only so much you can learn from watching someone. The best way to learn is by going out and doing it yourself and learn from your mistakes.
"I feel like I took in a huge amount of knowledge from the people around me at Leinster and now I need to implement it into my game. The only way I can do that is out on the pitch."
Munster face a tricky assignment in Cork when the Ospreys visit Irish Independent Park this coming Friday but eyes can't help but wander to the mouth-watering derby with Leinster at the Aviva Stadium on October 6th.
"I suppose it will be strange playing against a team that I used to play for but we have just got to treat it as any other game," Carbery said of the impending clash with his former team.
"At the end of the day it's a game of rugby. It will be exciting going back up to the Aviva. I think it's going to be a real test of where we are in the season. It's going to be a big game. There is always a massive rivalry between the two."
Carbery also spoke on his performances to date with Munster, saying: "I felt like I have done alright." He also admitted that he is looking forward to linking up with Conor Murray when the scrum-half returns from injury and that it was one of the reasons that edged him towards joining Munster.
"Having a good nine beside you makes my job a lot easier and there are a load of good nines at Munster. Obviously, Mur has proven that he is one of the best in the world if not the best. It will be great to play with him."
The post Carbery settling into life at Munster appeared first on Sporting Limerick.