COLLEGE radio station Wired FM celebrates their return to the airwaves with a night of live music and broadcasting.
Ray Burke and his crew at the station have assembled some of the city's cutting edge acts for the three-hour live broadcast from The Record Room, Catherine Street.
The show will feature live performances and interviews with We Come in Pieces, Dott, and Post Punk Podge and the Technohippies.
Sign up for the weekly Limerick Post newsletter
Tickets for the broadcast are free. To be in with a chance of winning one, you need to stay tuned to the Wired FM Facebook homepage, and Twitter.
Each of the bands will be giving away tickets too, so there will be multiple ways of winning tickets in the run up to the event.
Ticket giveaways will also take place across the college campuses during student orientation and induction.
The broadcast will go out live on 99.9FM, will stream from the Wired FM's website, and a special high quality video stream on Facebook is also promised.


We Come in Pieces released their third album 'Stop the Rot' this year. As with all of WCIP output, the album is a treat, belting out fast, heavy, hairy, aggressively balding rock and roll music.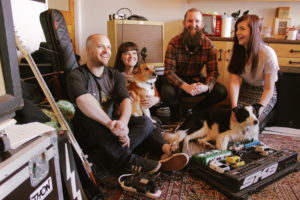 DOTT make a welcome return to Limerick after a prolonged absence. The eagerly awaited 'Heart Swell' was released on Graveface Records back in June.
Post Punk Podge & The Technohippies have been having an incredible year, with appearances at Body & Soul, Knockanstockan and two performances at Ballionisphere, Electric Picnic.
Wired FM transmits on 99.9FM, broadcasting from The Record Room, The Commercial on Thursday September 13 from 8-11pm.