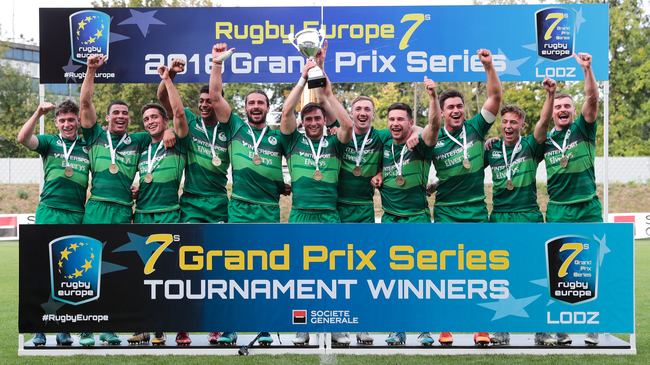 Shannon's Greg O'Shea part of victorious Grand Prix Series Irish 7s team.
The Ireland Men's Sevens team won their first Rugby Europe Sevens Grand Prix Series title after dominating the final tournament of the series with six wins out of six in Lodz, Poland. Shannon's Greg O'Shea was part of the all conquering side.
Anthony Eddy's men, who were series runners-up on their debut last year, finished the 2018 edition in fine style with a 35-5 final victory over Germany to be crowned Lodz 7s champions, adding to this summer's Moscow and Marcoussis 7s crowns, as they were confirmed as the best across the continent.
First half braces from Terry Kennedy, the series' top try scorer with 23 tries in 18 games, and Jordan Conroy had Ireland well in front of the Germans, leading 28-0 at half-time, and they added a closing score from replacement Adam Leavy. Earlier in the day, captain Billy Dardis and his team-mates cruised past Sweden (47-5) and a France development side (42-0) to reach the decider.
Ireland impressively won 23 of their 24 matches across the four legs – only losing to England in the Exeter semi-final – and finished with a new record tally of 76 series points, well clear of second-placed Germany (60) and last year's winners Russia (56) in third. They amassed 120 tries and conceded only 22.
It is another milestone achievement for the Men's squad, following on from their historic bronze medal win at the London leg of the HSBC World Rugby Sevens Series in June and the Challenge Trophy success at the Rugby World Cup Sevens in San Francisco in July.
The 12-man panel in Lodz – all aged between 19 and 25 – included team stalwarts Harry McNulty and Kennedy, who have both been involved since the foundations were laid by the European Division C and B title triumphs in 2015, and Dardis and John O'Donnell, as well 19-year-old new cap Hugo Lennox and fellow young guns Sean Cribbin (20) and Robert Baloucoune (21).
The IRFU Men's Sevens Programme has completed the full set of Rugby Europe trophies, from Division C through to the Grand Prix Series, in the space of just over three years. Graduates of the programme in recent years include Adam Byrne and Rory O'Loughlin, who have both gone on to win Ireland 15s caps, and fellow provincial regulars Alex Wootton, Dan Goggin, Barry Daly, Tom Daly and Nick Timoney.
Over the past twelve months, and in addition to the men's success, the Ireland Women made history with a sixth-place World Cup finish and last week claimed bronze in the Grand Prix Series, the Ireland Under-18 Women were European bronze medallists and UK School Games and Home Nations Series champions, while the Ireland U-18 Men were European champions last September and silver medallists at the 2018 tournament in May.
Having topped Pool C yesterday with a trio of wins, Eddy's charges faced Sweden in the quarter-final. Seven tries would secure Ireland an impressive 47-5 victory over the Sweeds. They followed this up with an equally impressive win over France in the semi-final finishing with a 42-point win.
Familiar rivals Germany stood between Ireland and taking home another tournament trophy for the IRFU cabinet, the two teams having also met in the Moscow and Marcoussis finals which the Irish side won 28-7 and 49-7 respectively.
The rematch saw the electric Kennedy open the scoring after just 25 seconds, having shrugged off a tackler and managed to stay on his feet. Credit to McNulty again for gobbling up the initial kick-off, a key component of Ireland's game throughout the campaign.
Dardis converted and also added the extras to Conroy's second-minute effort, which came from good work by Cribbin and Horan and a well-timed final pass from Dardis. Germany threatened to cancel out those seven points but McNulty's excellent try-saving tackle denied Jonathon Dawe, under the watchful eyes of Eddy and Head of Athletic Performance, Allan Temple-Jones, in the dugout.
Ireland broke further in front with two more converted tries in the lead up to half-time. Kennedy's searing pace registered arguably the try of the weekend – his seventh in all. He broke from deep inside the Irish 22, turning on the after-burners to leave four defenders trailing in his wake.
Textbook counter-rucking from Horan supplied turnover ball which allowed Conroy to break clean through from the ruck for his second try of the final. Nonetheless, Germany carried more of an attacking threat in the second half, Tim Lichtenberg just evading Baloucoune's despairing dive to score after Ireland had been exposed by a quick tap.
However, Ireland made sure they ended the match very much on the front foot. Replacement Leavy surged away from Dawe, close to the left touchline, to grab a 12th minute try, converted by Cribbin. Teenager Lennox was almost away for a sixth score in the dying seconds but his juggled attempt at gathering a pass resulted in a knock-on.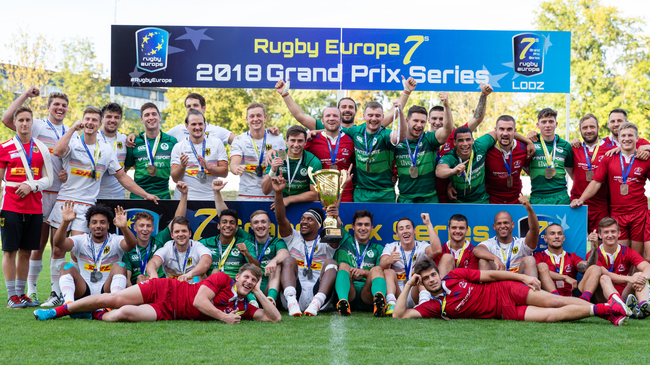 IRELAND MEN'S SEVENS Squad (2018 Rugby Europe Sevens Grand Prix Series – Round 4, Miejski Stadium, Lodz, Poland, Saturday, September 8-Sunday, September 9)
Robert Baloucoune (Enniskillen/Ulster)
Sean Cribbin (Suttonians/Old Belvedere (dual status))
Jordan Conroy (Buccaneers)
Billy Dardis (Terenure College) (capt)
Foster Horan (Lansdowne)
Terry Kennedy (St. Mary's College)
Adam Leavy (Lansdowne)
Hugo Lennox (Skerries) *
Harry McNulty (UCD)
Bryan Mollen (Blackrock College)
John O'Donnell (Lansdowne)
Greg O'Shea (Shannon)
The post Shannon's Greg O'Shea part of victorious Grand Prix Series Irish 7s team appeared first on Sporting Limerick.