A NIGHT at the opera is a rare and major event so congrats to Lime Tree Theatre for staging its first such outing of the season on a Saturday night, September 22. 'The Tales of Hoffmann' is touring here after its Dublin premiere by Irish National Opera.
Jacques Offenbach's 19th century opus was never completed but Irish man Tom Creed's production took from three of Offenbach's dark and daring stories to create these Tales. Creed is a grand fromage in Paris opera-making and last year, gave us the stark contemporary antiwar play by Benjamin Britten, 'Owen Wingrave'.
Of 'The Tales of Hoffmann', he promises a mix of "wild fantasy and pure feeling in equal measure."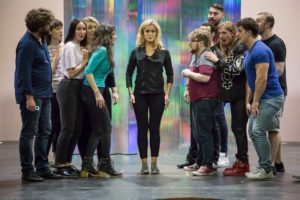 Limerick Post rounded on Limerick bass baritone Kevin Neville, cast as one of the principals Schlemihl, a man party to a bizarre love triangle. First we hear that 'Hoffmann' is staged "in the near future. We have iPhones on stage and costumes are very colourful with plastic elements. Part of the show is set in an art gallery with very bold walls."
Sounds fun and Neville, a Corbally man, cannot underline enough the craic they are having with Tom Creed directing at nano speed. "He is young, fast and energetic, clear in what he wants. We have blocked off the whole opera in 10 days and of course, we still have a lot of work to do, a lot more refining."
During a breakout from rehearsal in Dublin where he has lived for the past decade, Neville bounces through the most fantastical heartbreak and love Tales, the hokum of unrequited love made comically cruel, ridiculous and melodic by fine writing. Case in point: the character Giulietta (Claudia Boyle who plays three other fatal femmes in this cycle of stories) steals Shlemihl's shadow for a diamond. Smart girl, she does a runner. There is a death.
Kevin Neville was trained by Olive Cowpar in Limerick, went on to Emmanuel Lawler in Dublin and completed a Master's in Music Performance in 2015. On to Northern Ireland Opera's study programme and several tours with shows on road, also working as understudy. A regular performer in Limerick for Culture Night and concerts, this go-ahead talent has earned this gig and rising profile.
May 'Tales of Hoffman' be as entertaining and sublime as forecast. www.limetreetheatre.ie