WITH 69 patients on trolleys last Monday, Health Minister Simon Harris has been accused of ignoring the fact that overcrowding at University Hospital Limerick (UHL) is the worst in the country.
Sinn Féin TD Maurice Quinlivan has condemned as "disgraceful" the huge number of patients waiting on trolleys at UHL this week and claimed that the problem was being totally ignored by Minister Harris as it escalates to a completely unacceptable level.
"I wrote to Minister Harris back in January seeking a meeting with him to discuss ways to reduce the overcrowding problem in the hospital, because it's abundantly clear his plan for our local hospital is failing miserably.
I have yet to hear back from the Minister. The people of Limerick deserve quality healthcare like every other citizen, yet people are being constantly packed into UHL in an incredibly unsafe manner.
"The 69 patients on trolleys in UHL on Monday were more than all those in Wexford, Waterford, Kerry, Sligo, Mayo, Cavan, and Kilkenny hospitals combined," Deputy Quinlivan claimed.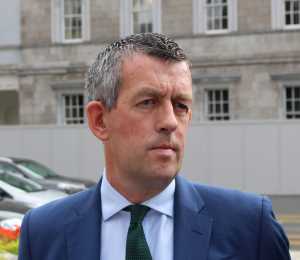 "This level of overcrowding is incredibly unfair on patients and their families, and also on the staff and nurses who have to work in these very difficult circumstances. Last year saw the largest number of patients on trolleys in recorded history at 98,981.
"Minister Harris must intervene at UHL before the situation escalates any further, especially facing into the winter," he said.
A statement from UHL said that the emergency department at UHL is one of the busiest in the country and the numbers presenting continues to increase year on year.
" A high level of attendances in the emergency department with 196 people on Saturday and 253 on Monday contributed to the levels of overcrowding this week. The number of patients requiring admission was high and included many frail elderly patients with complex care needs.
"We regret that any of our patients have to face long waits during busy periods and any distress or inconvenience this causes to patients and their loved ones. We also acknowledge the difficult situation for our staff and thank them for their continued dedication and commitment to patient care.
"Overcrowding is a whole-hospital issue and not an issue strictly for the emergency department. A multi-faceted approach is required to tackle overcrowding, encompassing additional bed capacity, improved patient flow, the development of integrated care programmes with community services – all of which are being addressed by the UL Hospitals Group," the statement concluded.