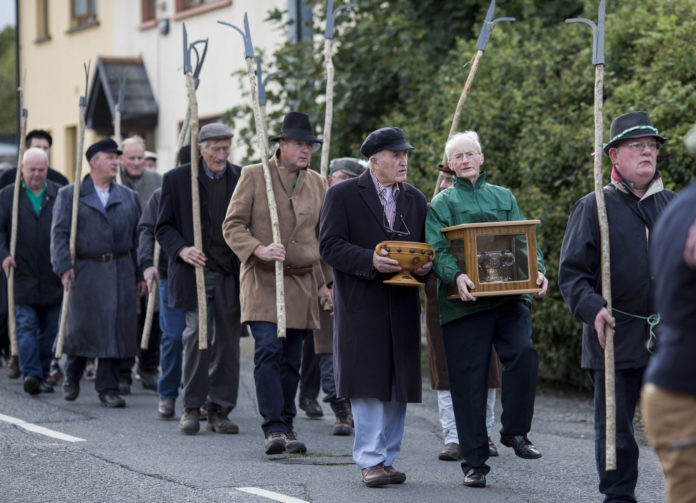 ONE of the two men who discovered a hoard of priceless treasure gained nothing for the discovery and ended his days in a workhouse, buried in a pauper's grave.
But the sad ending of the story of Paddy Flanagan, who along with Jim Quinn unearthed the Ardagh hoard and the Ardagh Chalice, has prompted a local musician and songwriter to immortalise him in song.
The 'Dreams of Paddy Flanagan' is written by Pal Moriarty and performed by Eoin Burke, accompanied by Eva Downey on harp and Colm Foley on the pipes.
Money changed hands for the chalice, which dates from the eighth century, but Paddy saw none of it.
Jim Quinn and Paddy were digging up potatoes in a Ring Fort on land rented by Quinn's widowed mother when they stumbled across the hoard in 1868.
It consisted of four brooches and a stemmed cup inside a highly elaborate chalice.
Paddy Flanagan was employed as a farm labourer by Mrs Quinn and the chalice and other items ended up in her hands.
She sold the entire collection to the Bishop of Limerick for a mere £50. He in turn sold it to the Royal Irish Academy for £500.
Theories have been floated that the Ardagh Chalice was one of a number of valuable pieces stolen from the monastery at Clonmacnoise in 1125 during a robbery by a Limerick Dane.
It's also possible that it came from somewhere in Munster as items in the Derrynaflan Hoard, found in South Tipperary, contained another elaborate chalice relatively similar in style.
This weekend, Ardagh will continue celebrating 150 years since the chalice was found with a festival.
There will be a Viking re-enactment set in a Celtic village located in the sports field with an outdoor play, set in medieval times, culminating in a battle scene and the loss of the Chalice.
This will be followed by musical entertainment, and a second scene, set in 1868, re-enacting the re-discovery of the chalice by a young man digging for potatoes.
THere will be a torch-lit parade and bonfire before the festival draws to a close with a classical concert in the Church.