Limerick was in celebratory mood once more as another long wait ended with the arrival of the historic sailing vessel Ilen, which first sailed Shannon waters some 92 years ago.
In an autumn of great homecomings for the city, the arrival of the Ilen may not have drawn out the numbers that the Liam McCarthy Cup did but it was, nonetheless, a very special moment for supporters of the project as the 56ft long wooden boat cut the Shannon waters to arrive in style at Limerick Docks.
She was formally greeted by Mayor of the City and County of Limerick James Collins and will winter at the Shannon Foynes Port Company operated docks ahead of a busy first full year back on the water in 2019.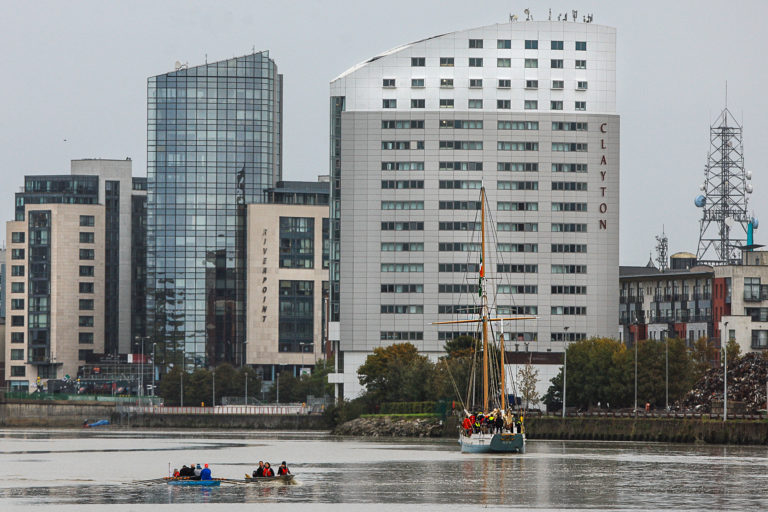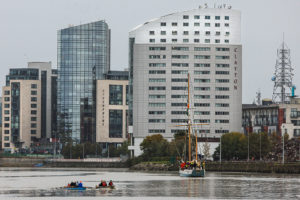 Designed by one of Ireland's greatest sailors, Edward Conor O'Brien, from Ardagh, Co. Limerick and later Foynes Island on the Shannon Estuary was the grandson of Irish nationalist and MEP William Smith O'Brien. He was captain of the first boat to sail around the world under the tri-colour of the Irish Free State.
Ilen is a traditional Irish built wooden ketch.  Not unlike the many ketch which plied their trade on the Lower Shannon in the age of sail, she sailed out from Foynes to the Falklands in 1926 and spent all of 70 years there as an inter-island trader, ferrying passengers, sheep, cattle, commercial goods and all other commodities required by remote island communities.
That was until her distinct lrish profile was recognised on a Falklands War TV news bulletin, over 30 years ago by one of her delivery crew from Cape Clear, Co. Cork.
A campaign, spearheaded by directors of the Limerick based Ilen Project, Gary McMahon and Brother Anthony Keane of Glenstal Abbey, ensued and 20 years later, following a lot of sweat, funding and craftsmanship, the Ilen is back home on the Shannon.
Welcoming the duo and their 13 strong crew on arrival, Mayor of the City and County of Limerick James Collins said: "We're delighted that the Ilen is back here in Limerick. It's been a labour of love really for the lads that worked on it, funded in part through Limerick City and County Council.
"It's a ship that was designed in Limerick, it was rebuilt by Limerick people, sailed out of Limerick, recovered by Limerick people, renovated and now it's back in Limerick and we're delighted that she is here.  It's fantastic."
Project Director Gary McMahon said that the boat would be for the people of Limerick and, in particular, a learning platform for younger citizens for access to sailing and the marine environment. "It's a community boat and its new home port is Limerick Docks and we are grateful to Shannon Foynes Port Company for its hospitality.  There's an entire learning aspect to and we will continue to expand our current educational programmes around this project with schools.  We are hoping also that the city will embrace the vessel and we will need support with this."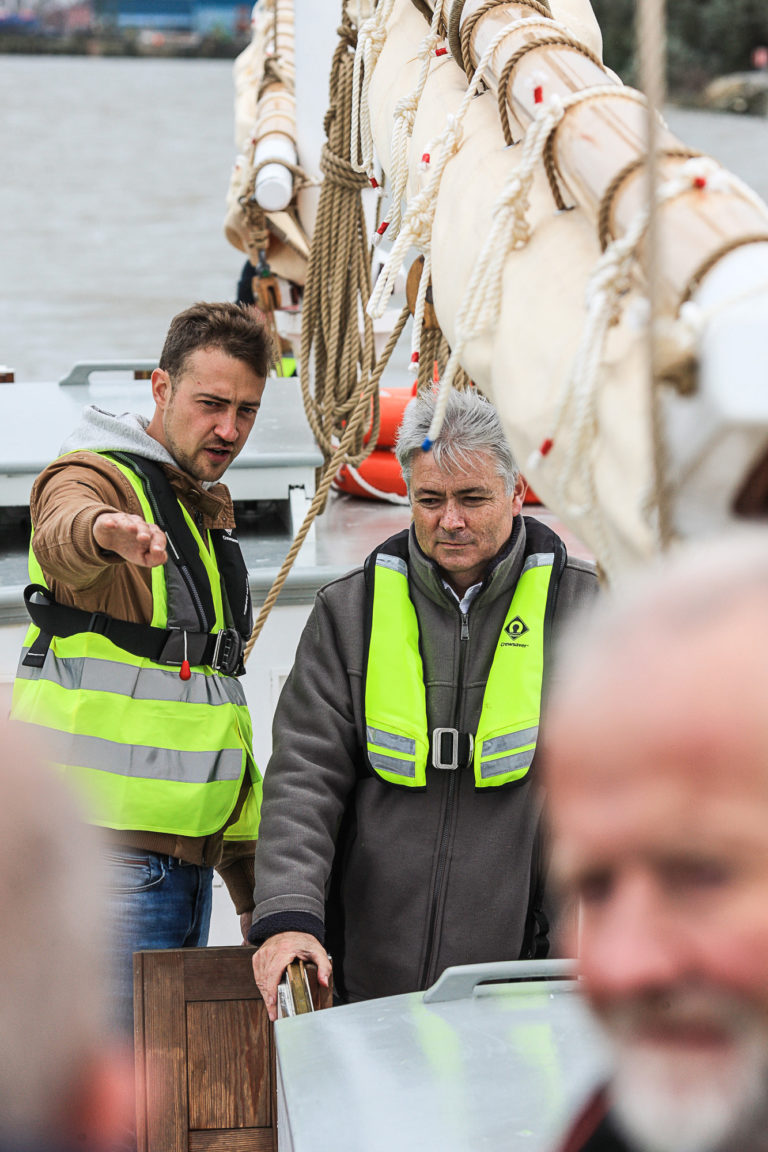 Said his co-director of the project Br. Anthony: "We've got a very warm welcome today from the people of Limerick who are welcoming back their boat after a long absence. We've been working together for the last 20 years, trying to get this vessel to the fine condition she is in today, ready to serve as a portal for Limerick City."
Welcoming its new guest to the Ted Russell Docks, Assistant Harbour Master at Shannon Foynes Port Company Hugh Conlon, which operates the docks, said:  "It's a day with a difference in the sense that we've had a ketch come back into the Shannon Estuary, a boat designed by Conor O'Brien in 1926 from Foynes Island. It was built in the area and it sailed from the Shannon Estuary, worked its whole life down in the Falkland Islands and it's finally come back to the Shannon Estuary after many, many years of hard trading in the South Atlantic.
"It took the bones of 20 years to get her finally sailing back into the Ted Russell dock.  And we're proud of the fact that we can lend a hand into the future and hopefully winter the boat here as time goes on and let her sail during the summer months."