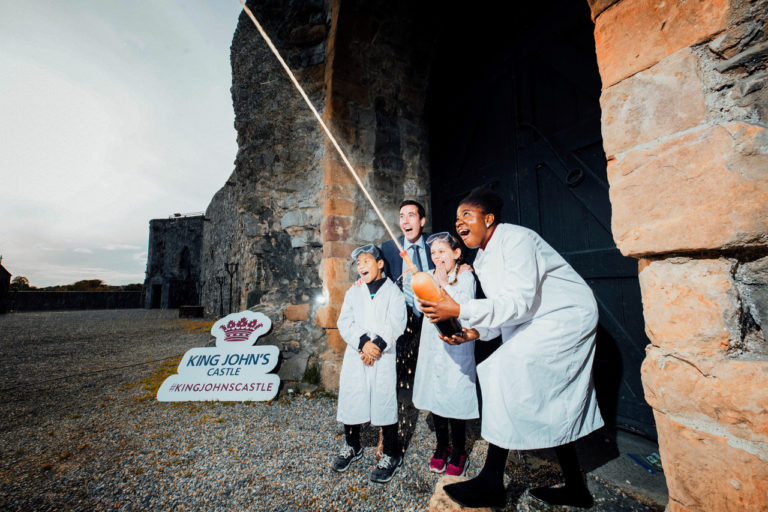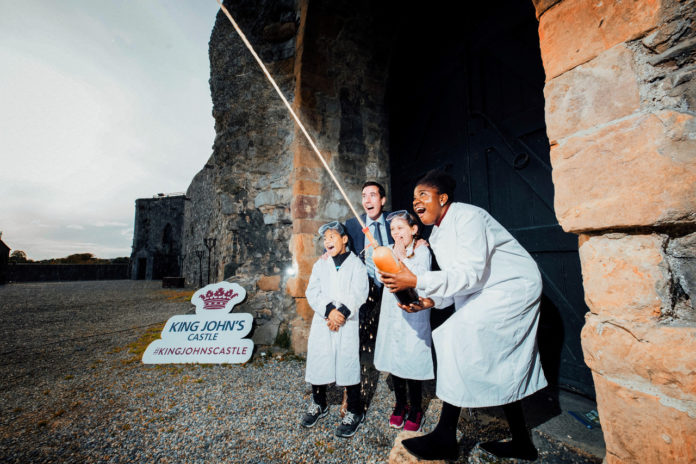 Shannon Heritage has unveiled a range of spook-tacular events for Halloween that are frighteningly exciting and perfect for the entire family.
You can start your Halloween celebrations on Sunday, October 28 with a pumpkin picking event from 11 am to 3 pm at Bunratty Castle and Folk Park in County Clare. Children can pick their favourite pumpkin for painting and decorating before taking it home and placing it in your window on Halloween night, perfect for ages 3-8.
Make sure you have your Halloween costume ready by Monday, October 29 as Bunratty Castle turns into a creepy castle from 12 noon to 5 pm for a family fun day – Children will enjoy free face painting upon arrival and there will be traditional Halloween games such as snap apple and blind man's buff in the company of our wonderful Bean an Ti.  They may even provide sweets and treats for the kids to keep up their energy!
Wobbly Circus and Monsieur Gusto Shows will also be onsite to provide some light-hearted relief from all the mayhem. If that's not exciting enough there will also be fire eating, juggling, stilt walking shows, a gypsy to tell your fortune and Konor the Klown who will be doing amazing magic tricks and balloon artistry!
Back by popular demand, this year is the Halloween Spook Train ride – so be on the lookout for ghosts, grim reapers and zombies as they will appear from out of nowhere to give you a scare.
If you really want to be spooked then you'll want to explore the creepy crypt in the castle for older children. Also keep an eye out for living statues around the castle and Halloween characters roaming the graveyard – you never know what you might see at Halloween. There will also be snakes, lizards, owls, a vulture, a raven and a terrifying tarantula to bring your nightmares to life.
Visitors will also be able to escape into the fantastic Exploration Dome for a celestial experience with jaw-dropping moments!  Mystery judges on walk-about will present prizes for the ghastliest girls and boys.  While the kids are getting into the spirit of things, why not take some time out to enjoy wonderful Halloween treats in O'Regan's Café and Bunratty Tea Room?
Speaking ahead of the Halloween extravaganzas, Managing Director of Shannon Heritage Niall O'Callaghan said, "We're really looking forward to our very successful Halloween days out. This year's events are our biggest and best yet! Bunratty Castle and Folk Park and King John's Castle have exciting, fun and spooky events planned that are perfect for the entire family to enjoy. Kids can come dressed in their Halloween costumes and take part in the games and activities.
To add to the excitement Shannon Heritage has added a brand new Halloween event at their iconic King John's Castle visitor attraction in the heart of Limerick city. From Tuesday, October 30 until Friday, November 2 there will be Spook-tacular Science at King John's Castle with Planet Science Kidz.
This exciting, fun and educational science club for kids between the ages of 6 – 13 is the ideal place for them to embrace their inner mad scientist while doing some fun 'messy' experiments. This show will be specially tailored with a Halloween theme. Some of the themed activities planned for the day include erupting fires, bubbling potions, exploding lunch bags and mesmerizing crystal balls.
"We are particularly delighted to welcome the exclusive Spook-tacular Science with Planet Science Kidz to King John's Castle. Not only is this fun and educational it also gives kids the opportunity to learn about science and ignite their curiosity about the world around them," Niall O'Callaghan added.
*Spook-tacular Science at King John's Castle takes place Tuesday, October 30 to Friday, Nov 2: 10am, 11.30am, 1.00pm. 2.30p for kids between 6-13. Ticket Price: €12 per child