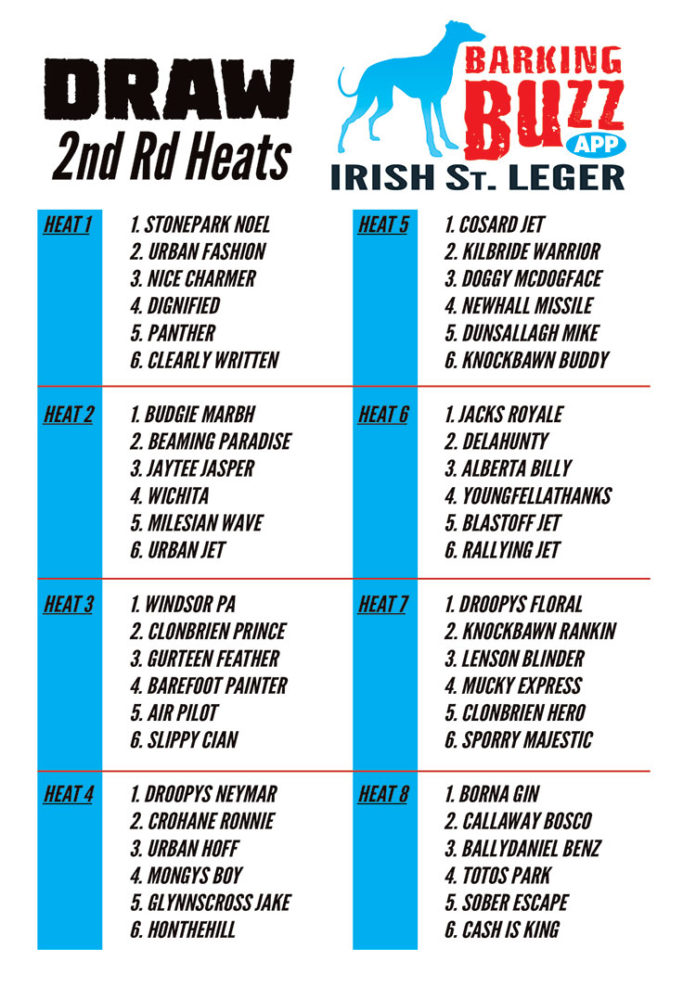 48 greyhounds remain in the hunt ahead of the second round of the €60,000 Barking Buzz App Irish St Leger in Limerick on Saturday.
Eight red hot heats will be decided at Greenpark this weekend.
Derby finalists last month, Limerick-owned Slippy Cian and Clonbrien Hero, are among those who managed to progress from the first round. Other notable runners heading into the traps include Gurteen Feather, Totos Park, Borna Gin, Lenson Blinder and Newhall Missile.
The St Leger is one of 14 'Classic' races in the Irish greyhound calendar and one of two held in Limerick, along with the Con and Annie Kirby Memorial Stake.
Racing manager with Limerick Greyhound Stadium, Liam Kennedy, commented:
"The first round heats of the Barking Buzz App Irish St Leger had everything, with plenty of thrills and spills amid the high quality greyhound racing. We're sure the second round will provide the same this Saturday. It's a busy time in Greenpark so we'd encourage anyone looking to enjoy a night at the dogs to book early to avoid disappointment."
He continued: "The excitement amongst owners, trainers and spectators on Saturday was wonderful to see. I have no doubt that excitement will only increase as we reach the closing stages of the competition. I want to wish the best of luck to all still involved."
Director of Tote Wagering with the Irish Greyhound Board, Joe Lewins, commented:
"We're delighted that the Barking Buzz app will become synonymous with one of the highlights of the Irish greyhound racing calendar, the St Leger. The IGB's Strategic Plan 2018-22, launched earlier this year, makes continuing to improve customer experience a priority, which is what the Barking Buzz app does."
The Irish St. Leger will continue each Saturday over the coming four weeks, with the Final on Saturday, November 3rd. The stadium restaurant and admission packages are available to book now for all stages of the competition, including the final.
The Irish St. Leger was first run in the Market's Field in 1944, and was won by No Relation, owned by Mr. T. Rea, Kilmallock, Co. Limerick, in a time of 31.48. Run over 550 yards, the event is one of the most prestigious in the Irish Greyhound Racing calendar.
This is the ninth running of the event in the Greenpark location, following the opening of Limerick Greyhound Stadium at the site in 2010.A total prize fund of €60,000 is on offer, with the winner to receive €25,000 plus a commemorative trophy.
The post 48 greyhounds still in the hunt as St Leger continues at Limerick this weekend appeared first on Sporting Limerick.