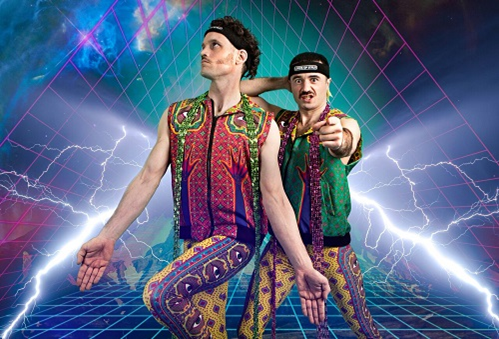 LIMERICK'S Bualadh Bos Children's Festival opens on Tuesday October 9 and runs until Saturday October 20. This is the only dedicated festival to children's work and happens in both the Lime Tree Theatre and Belltable.
There is an extensive lineup of performances from interactive theatre to music to theatre acts so there is something to delight all children and entertain the grown ups as well. See limetreetheatre.ie for updates.
Limerick Post spoke to comedy/circus act The Lords of Strut from Cork who are household names across the UK and Ireland. They reached last year's 'Britain's Got Talent' semi final stage.
The duo Cian Kinsella and Cormac Mohally have been delighting audiences across the globe at festivals, comedy clubs and theatres with their unique blend of comedy, acrobatic dance and colorful style.
Cian and Cormac were in town last week to launch the Bualadh Bos Children's Festival and also got to surprise Cian's two young nephews who attend The Project School here in Limerick with an impromptu performance at the school.
"They are big fans so the kids got a surprise visit into their classrooms," laughs Cian.
The new show from The Lords of Strut is called 'Absolute Legends'.
It continues the adventure/ fantasy story of Sean and Seamus who have wanted to be famous all their lives. The duo have to find the perfect dance routine so they can both become "famous". And all their dreams can come true.
Cian says that the story of Sean and Seamus, 'Absolute Legends' is a parody of today's celebrity obsessed culture.
"We are doing a parody of this modern concept of celebrity and fame and we are kinda breaking it down a bit because these aren't the important things in life.
"The important thing is that we are all together and we have a good time. And that we dance and we have that basic universal joy. So these two basic characters are seeking fame – it is the parody of that."
The Lords of Strut started out as street theatre and have developed their comic contortions to suit very different audiences. They have toured the world as part of THISISPOPBABY theatre show 'Riot', winning Best Play at The Dublin Fringe Festival.
This new show was created with the folks from THISISPOPBABY.
"We got on very well with them and we decided to make this show with them. So Absolute Legends has got all their experience in theatre and making spectacle and our own experience in entertainment and comedy and circus shows."
Anyone who has seen the boys on 'Britain's Got Talent' will know of their larger than life characters, their amazing acrobatic skills and ludicrous gym gear all played out to a banging sound track from the 1980s.
"They are good tracks for doing dance routines – and getting the audience going."
The Lords of Strut remained in the characters of Sean and Seamus for their entire time on 'Britain's Got Talent'. The audience did not necessarily know that the duo were an act and the judges didn't know either when they went for their first "live" audition.
"Only the producers knew and for them it was an experiment. They had never allowed for people to do the show in character before. It was the first time that they ever did it. They didn't know how it would work out and neither did we but it did work."
The TV exposure has given The Lords of Strut a bigger profile across the UK and Ireland, though they weren't doing too bad for themselves up to that point anyway on the theatre, festival and comedy circuit.
"It's definitely made things busier for us and a lot more people know us. At festivals throughout the summer in the UK we would have had a lot of people turning up because of 'Britain's Got Talent'."
The Lords of Strut bring their street routines in to the late night stand up circuit as well.
"We got booked for festivals and comedy clubs where we made it more adult, that when we ended up with an adult show. We ended up making different shows that suited different needs."
In the comedy clubs the duo have become the act no comedian wants to see on the bill before them.
"We are getting a reputation of being a very hard act to follow," laughs.
The Lords of Strut bring 'Absolute Legends', their dance comedy show for kids… and fun lovin' adults, to Lime Tree Theatre on Saturday October 17 from 7pm.