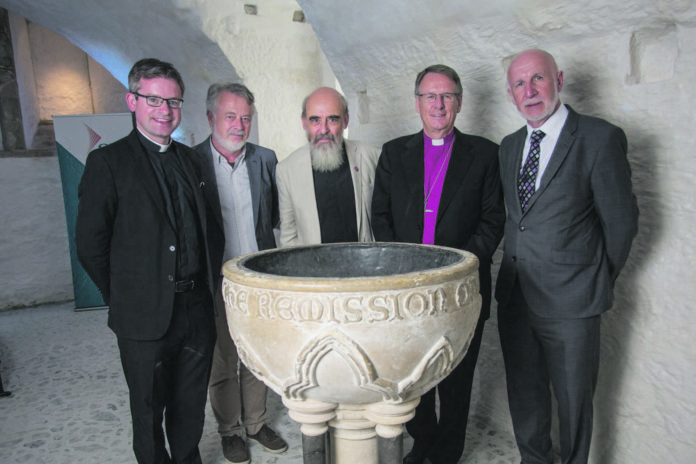 THOUSANDS of infants got their first taste of religion in a baptismal font that has been missing from Newcastle West for almost 60 years.
And now the Office of Public Works (OPW) has welcomed the return of the St. Thomas' Baptismal Font to the town.
The font was originally located in St. Thomas' Church which was built in 1777 but deconsecrated in 1958 and demolished in 1962.  After an absence of nearly 60 years, the font is returning back to Newcastle West and will be located in Desmond Castle, close to the original site of St. Thomas' Church.
"The castle is a complex site and its uses over the centuries have been varied – from a defensive structure in the 1200s to a cinema and community hall in more recent years.  The only reminder of St. Thomas' is the footprint of the building inside the gate and so, the font is very precious both to the National Monument Service and to the town," a spokeswoman for the OPW told the Limerick Post.
The restoration of the font was carried out by OPW craftworkers.
Among the more famous people brought into the faith over the font was Sophie Peirce (1896-1939), an early Irish aviation pioneer and native of Knockaderry.
She broke the world altitude record for British light aircraft in 1927 and also lectured on aviation. In 1928, she became the first pilot to fly solo from Cape Town to London, one of her most well known accomplishments.
St. Thomas's Church was paid for by William, second Viscount Courtenay but there is little historical information on the font.
From the Bishop's Visitation records, the church appears to have been in a decent condition, but over time fell into disrepair. The font was moved and eventually relocated to St. Mary's Cathedral and the altar was given to Kilflynn Church, about 50km south-east from Newcastle West.
Desmond Castle is one of the main tourist attractions in the county town. Free to enter, it opens between April and September each year.
Now home to the baptismal font, the Desmond Banqueting Hall is an imposing two-storey structure and was used by the Earls of Desmond for banqueting and entertainment. The Hall, vaulted lower chamber and adjoining tower were all constructed during the 15th century.
The hall and chamber were built on the remains of a 13th century structure of similar size. Its restored medieval features include an oak musicians' gallery and a limestone hooded fireplace.
The baptismal font can be viewed during the castle opening times.