GATHERING traction at a fierce scale with 130+ film entries by October 8, the Richard Harris International Film Festival spools from Thursday October 25's screenings to all day itineraries right into bank holiday Monday 29.
On Friday last Mayor James Collins officiated at the media launch for RHIFF 2018 in George Boutique Hotel, hosted by the festival board's founding members Zeb Moore; Sylvia Moore, creative director and Rob Gill, chairman and film maker himself.
This year's stream of events includes the 'Limerick to Hollywood' exhibition in City Hall, Limerick Council being primary funder of  the festival; student screenings; feature premieres; acting masterclass; documentary screenings variously on Constance Smith, Syria and The Brothers Warner; Fresh Film Festival Shorts. There's a red carpet awards show at Millennium Theatre, followed by a gala party at The Savoy Hotel.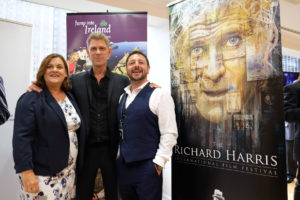 Check out the wealth of content and activity on website #richardharrisfilmfestival.com. The Limerick cinema fest has heavy batters in its favour this year: Limerick Council, Fáilte Ireland and the Department of Foreign Affairs. Status is elevated, more visible worldwide
There's a tie-in with the international clout of Global Irish Festival Series 2018 with the Wild Atlantic Way's website making the point that "The Richard Harris International Film Festival is currently the only film festival in Ireland which specifically encourages Irish filmmakers living abroad to return and showcase their work here in Ireland."
Between speeches by Zeb Moore (actor, producer, director) and the Mayor, Limerick Post collared the hard working Rob Gill for inside story to this five days that welcome Gerry Stembridge, Cass Warner of Warner Sisters Inc (Harry Warner's granddaughter, he of iconic Warner Bros), actors John Connors and Jamie Harris, directors, producers, scriptwriters and ambitious film makers by the dozen.
Gill spoke of some of the Irish – Hollywood community overseas as having family "who might have left Ireland or Limerick 100 years ago or more but who have a close affinity here. We are the custodians of that heritage. Richard Harris was one of those A-listers and he has paved the way for Irish diaspora in Hollywood such as Gabriel Byrne, Saorise Ronan and more."
2018 is full throttle. Rob Gill makes the point that their first New York launch taking place in the Irish consulate on Park Avenue was another achievement for this quietly gritty festival.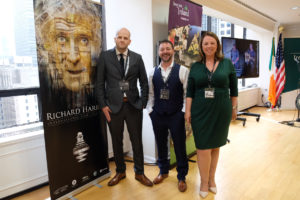 Balancing the tow of international premieres of 'Pretend One', 'Anthem of a Teenage Prophet, 'The Furnace', 'Stolen Princess' and 'Killers Within', each movie will be preceded by a Short made by Ireland based directors such as Colin Fleming and Cashell Horgan.
"We will have a super-panel of producers. We are trying to figure out a schedule with them, people such as Kevin Corrigan who worked on 'The General' and 'The Tailor of Panama'. Kevin was David Boorman's right hand man. Also Kevin Murphy, vice president of Warner Bros.
"And we are doing a virtual reality lounge for the first time with Kevin Ponotuti from the University of the Pacific. He is their Professor of Media X."
Dedicated makers of film, whatever their profile, have much to be enthralled by and to grow with RHIFF 2018, October 25 to 29.