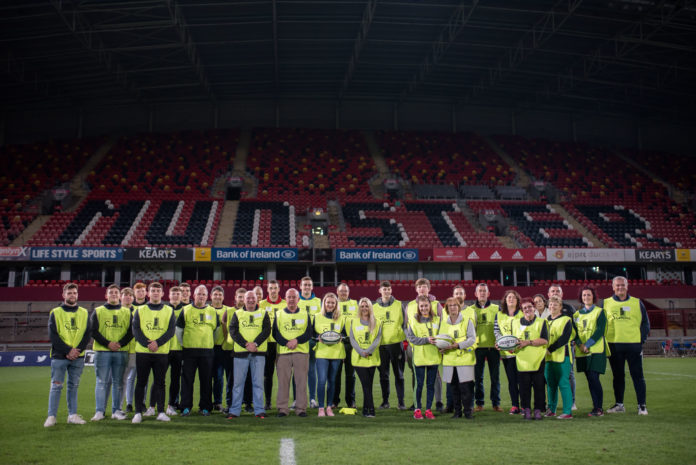 SLEEPERS replaced supporters at Thomond Park after Munster Rugby's Heineken Cup clash with Gloucester last Saturday as volunteers descended on the Ennis Road stadium for Mid West Simon's annual sleep out.
The event kicked off Simon's Christmas fundraising campaign, which aims to raise the €42,000 shortfall faced to run the family hub and housing first service. The core principle behind these two services is to offer long-term solutions to homelessness.
Since opening its doors last October, the family hub has re-homed 14 families into secure accommodation, with a 100 per cent success rate for tenancy retention. Each family is provided with a resettlement worker to support them into permanent accommodation.
The family hub also offers a range of supports to the children and adults housed, to empower them to live independently but also to try and minimise the traumatic impact of being homeless. Classes provided include healthy cooking, budgeting, art, sports and CV workshops.
Mid West Simon are also thrilled to be the recipient of a sensory wall which was funded by the national lottery through the HSE. This will be a huge benefit to children in the hub on the autistic spectrum.
Housing First works with people who have been in long-term homelessness and offers intensive supports to clients. The team encompasses considerable expertise in the areas of mental health and substance misuse. The service also offers intensive supports to clients engaging in back to education. There is a volunteer programme whereby clients are given opportunities to volunteer with MWS with the prospect of progressing into paid employment.
Sleep-out participants joined the Mid West Simon team in the press room in Thomond Park for a talk on homeless services, followed by a kicking competition on the pitch and walk-through of the museum. The group then spent the night in the tunnel in solidarity with those who are homeless in the Mid West region.
Mid West Simon Fundraising Co-ordinator Jade Quinn said they were extremely grateful to all the participants and the volunteers who made the night a success.
"We also appreciated the generosity of the stadium team at Thomond Park for allowing us to use the facilities. Homelessness reflects a form of social injustice and the efforts of this group will go some way to supporting vulnerable families and individuals in the Mid West," she concluded.
by Tom McCullough
[email protected]