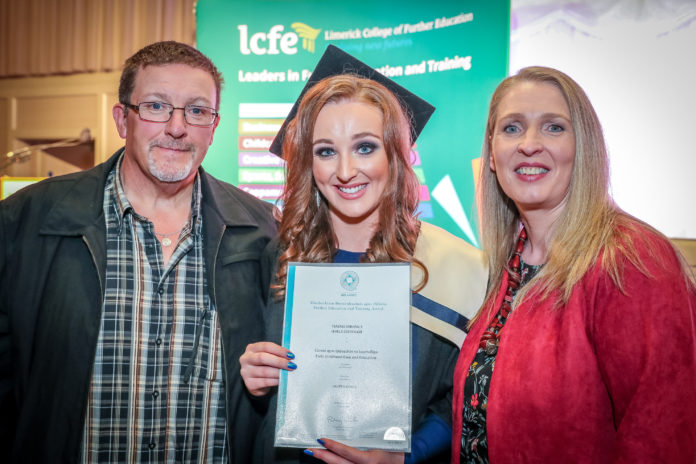 AS YOU can see from our photographs this week, it was an exciting time at Limerick Strand Hotel last week as Limerick College of Further Education (LCFE) held its annual graduation ceremony there.
Over 600 guests and graduates attended the event  at which some 250 learners proudly received their awards in various disciplines.
The ceremony, which saw graduates across the variety of schools and programmes offered at LCFE, had a fantastic day as they all celebrated their fantastic achievements together.
Musicians from Music Generation in Limerick performed as guests arrived and also performed downstairs during the ceremony.
Principal of LCFE Pat Maunsell then spoke about the dedication of the graduates. "Today is the highlight of our academic year because it honours and celebrates your achievements.  We are all proud of the fact that you have gained your award with us and are moving on with your lives."
Mr George O'Callaghan, CEO of Limerick and Clare ETB, also spoke of his pride for this year's graduates and guest speaker Mr John Lonergan – former governor of Mountjoy Prison – talked about the ever changing nature of today's world and the need to remain open to new opportunities. He encouraged those attending to have the confidence to seize those opportunities as they arise. Congratulations to all of this year's graduates on your achievements!
by Catriona Terney
[email protected]