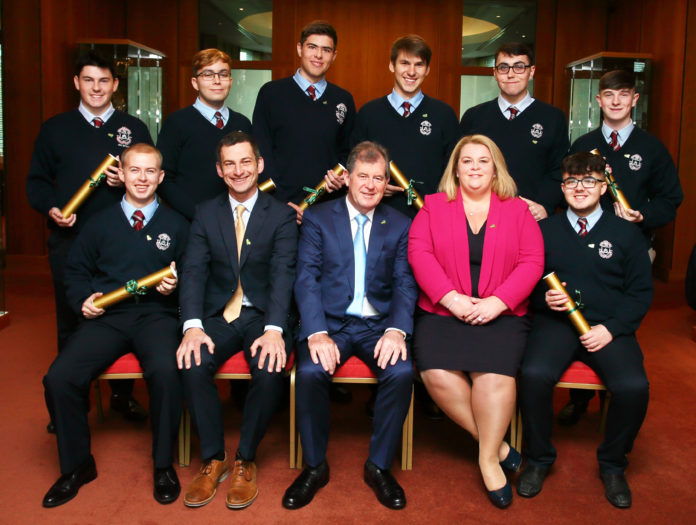 THE JP McManus Scholarship Awards ceremony takes place this Friday, November 9 in the Dunraven Arms Hotel, Adare.
Since its inception in 1997, almost 200 second level students have benefitted from the financial support it offers to attending college. As a former student of Colaiste Mhichil, Sexton Street, JP has undertaken to fund third level education scholarships to high achieving students from his former post-primary school.
The 2018 scholarship winners include Andrew Hayes, Dylan Hughes, Roska Jesevicius, Ben Kirkland, Michael McInerney, Adam O'Mahony, Dawid Polit and Alejandro de los Santos Puerto.
JP this week congratulated the scholarship recipients.
"I hope the scholarships will serve you well and as you now face the challenge of third level education, you will continue with the same focus, determination and successful outcomes," he said.
Principal of Colaiste Mhichil, Sexton Street, Denis O'Connor, described the eight young men, who will this Friday night receive their awards, as "outstanding", and wished them every success as they embark on the next step in their academic lives.
"Your parents and families have played a huge supporting role in your achievement. I'm sure they are immensely proud of you and I would like to extend my sincere congratulations to your proud families," Mr O'Connor added.
Mayor of Limerick City and County, Cllr James Collins took the opportunity to thank JP and the McManus family for their hugely generous and continuing support of students from Colaiste Mhichil.
"The recipients and the success they are having are the most powerful proof of the value of the JP McManus Scholarship Programme," Mayor Collins declared.