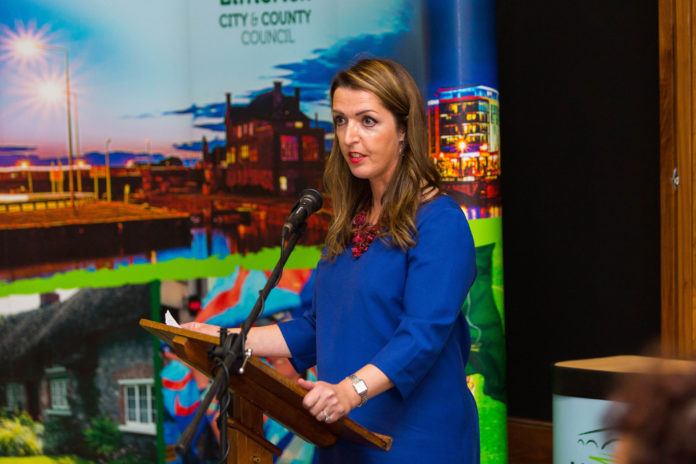 WOMEN'S health campaigner Vicky Phelan and her family will be the guests of honour at this year's 'Light Up Limerick' event which marks the start of the Christmas season in the city.
Credited for exposing the CervicalCheck scandal after she was diagnosed with terminal cancer, Ms Phelan said it meant "an awful lot" to be asked to turn on the Christmas lights as part of a special ceremony on Sunday, November 18.
"My children absolutely love everything to do with Christmas so to be chosen to get Christmas started for such a special event will really get them in the Christmas spirit very early," she said.
The invitation to turn on the lights capped off a memorable week for Ms Phelan who awarded an honorary fellowship at Waterford Institute of Technology (WIT) where she has worked since 2006.
At the conferring ceremony, she said that education had given her the courage to ignore the advice of her doctors and pursue the revolutionary trials drug which has shrunk her tumours by more than a half.
Had she listened to her doctors and agreed to undergo palliative, aggressive chemotherapy, she felt it was most likely that she would not be alive.
She encouraged women to go for smear tests, to accept the HPV vaccination and have the courage to seek a second medical opinion if necessary.
"I don't want any more women getting cancer. What happened to me was awful but I don't want it for anybody else. I have a 13-year-old daughter and she has just had her HPV vaccine two weeks ago. I don't want her getting cervical cancer," she said.
"The medical professionals treating me for my cancer only offered me palliative chemotherapy which would give me 12 months at most.
"By their calculations, I would be dead before the end of the year. But, as a result of my own research and stubborn determination and perseverance, I managed to get myself on to a new wonder drug called Pembrolizumab against all medical advice from my oncologists.
"I now have more than a 50 per cent shrinkage in my tumours and, most importantly, a quality of life that would not have been possible on palliative chemotherapy."
Her campaigning ensured that all the other 221 women impacted by the CervicalCheck "debacle" have now been granted access to the wonder drug.
Before she received Pembrolizumab, she felt she was going to die.
"Now, I feel good, I haven't lost my hair, my quality of life is good and I don't look like a cancer patient. I have no doubt that if I had taken the doctors advice back in January I would be dead now or on the way out. Chemotherapy would have only bought me until the end of the year."
by Tom McCullough
[email protected]