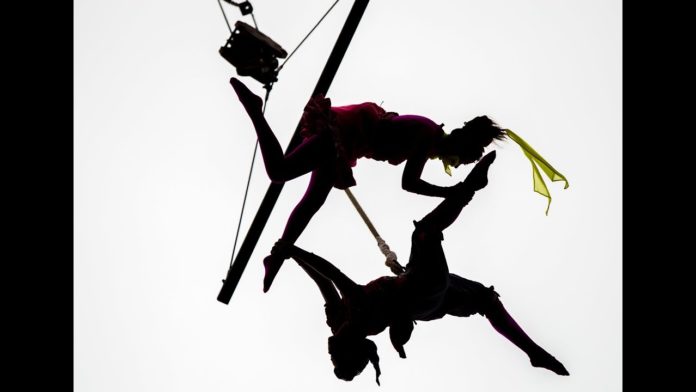 FOUNDED by wife and husband Chantal McCormack and Jym Daly, Fidget Feet has created almost 30 shows, and in the process nurtured the aerial dance sector in Ireland in its 20 years.
To commemorate the milestone, the company will launch a booklet detailing the history of Fidget Feet; Mr Daly spent the past year going through the Fidget Feet archives, compiling newspaper clippings, video footage, and posters the company has had in its lifetime to create the booklet.
Juley-Ann Collins gives a brief history of the company, "Jym has a passion for music and script writing, and Chantal has a passion for dance, aerial dance, and circus. So they met, and fell in love; they trained and worked a lot in the UK, then they decided to come back to Ireland." 
It was 13 years ago the group made a connection with Limerick, which Juley-Ann explains, was thanks to the late Mícheál Ó Súilleabháin.
"Mícheál Ó Súilleabháin really inspired Chantal, and they began a relationship with the Irish World Academy at University of Limerick, and became company in resident there," Juley-Ann told the Limerick Post. 
From the partnership with the Irish World Academy, Fidget Feet, grew their connection with the Arts Council, and Limerick City and County Council. It is through these connections they moved into their space in the Irish Aerial Creation Centre, Old Burlington Industrial Estate.
The company will launch the booklet at the Irish World Academy, University of Limerick today, Wednesday, November 14 at 5:30pm.