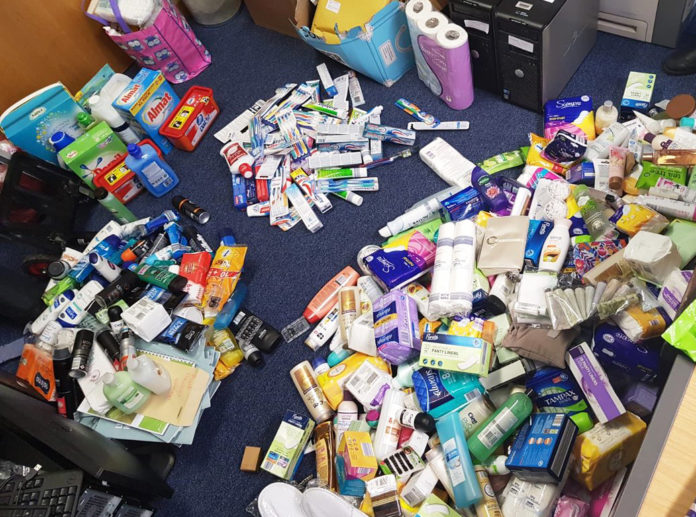 STUDENTS at the University of Limerick are collecting donations of toiletries and sanitary products to deliver to direct provision centres in the next week.
This follows confirmation from Justice Minister Charlie Flanagan that most women in direct provision will have to pay for sanitary products out of their €21.60 weekly allowance.
He said that the government will cover the cost of menstrual hygiene products in some direct provision centres, but those in 'independent living' centres will have to pay for sanitary pads and tampons out of their weekly allowance.
Accommodation centres for persons seeking asylum are all moving to an 'independent living' model wherein each resident is assigned a number of points based on familial composition and residents can procure food, personal toiletries and hygiene products at a facility provided by the contractor.
Companies running the independent living centres are required to provide toiletries such as soap, shampoo, toothpaste and toilet paper, but there is no contractual obligation to provide 'personal items' such as menstrual hygiene products, Minister Flanagan explained.
"My understanding is that the costs of such items was to be covered by the payment of the direct provision allowance," he said.
The current allowance is €21.60 per resident per week and this will be increased to €38.80 for each adult and €29.80 for each child in March 2019.
Lorcan O'Donnell, Welfare Officer with UL Student Life (formerly UL's Students' Union), said it was "disappointing" and "cruel" some of the most disadvantaged in society would be left paying for "basic hygiene products."
"Residents in Direct Provision are given just €21.60 to live on a week and to expect them to have to pay for the most fundamental sanitary products is not acceptable" he said.
Mr O'Donnell said UL Student Life have made efforts to combat 'period poverty' in Ireland by teaming up with the Homeless Period initiative to collect and distribute sanitary products to students in need.
"We are currently collecting all donations of toiletries and sanitary products that we will be delivering to direct provision centres in Limerick and Clare in the next week.
"According to an article in the Irish Times earlier this year, the estimated cost of for sanitary products per year is €132.34," he added.
A number of buildings around UL are serving as drop-off points for the toiletries drive including UL Students Life centre, University Concert Hall, Irish World Academy and the Glucksman Library.