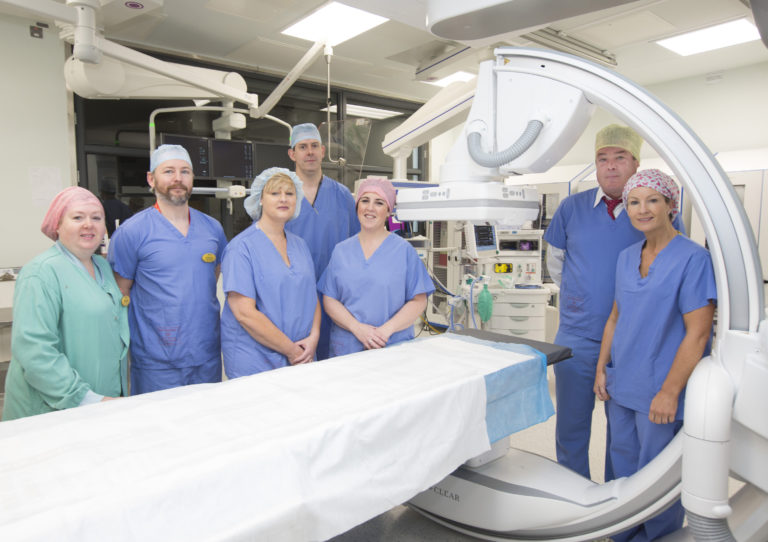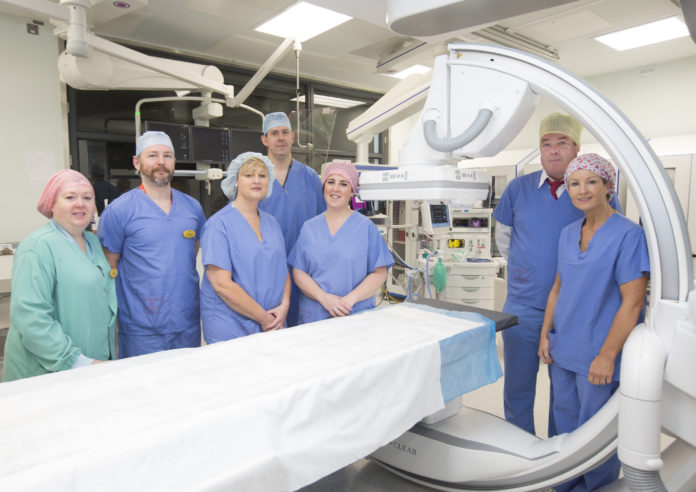 A NEW hybrid operating theatre at University Hospital Limerick (UHL) is enabling shorter, minimally invasive procedures with better outcomes for vascular patients.
The high-tech new theatre was financed by a €1.5 million donation from the Mid-Western Hospitals Development Trust with support from the JP McManus Benevolent Fund which donated €3.5 million for advanced surgery projects at UHL.
85 procedures have already been performed in the theatre which includes a built-in, fixed imaging system and motorised image capable operating table to allow multidisciplinary management of vascular cases. It ensures that UHL is at the forefront of technological advances and remains a leading centre for vascular/endovascular surgery in Ireland.
It also helps to future-proof UHL's status as a centre for complex specialist surgery; enhancing its education/training profile; reducing the demand for intensive care/high dependency beds and reducing the average length of stay for surgical patients.
The Vascular Unit at UHL currently deals with 50 abdominal aortic aneurysm (AAA) cases a year, of which around 30 are endovascular. This is a minimally invasive vascular surgical technique which typically involves catheters being inserted in a small incision in the groin and guided to the site of the aneurysm.
With an ageing and increasingly healthy older population, it is expected that the number of patients presenting with aneurysms and restricted blood supply will increase. The proposed introduction of an AAA screening programme is also likely to increase the number of aneurysms detected and requiring intervention.
Vascular surgery, along with acute cardiology, is one of the specialties that defines UHL as a model 4 hospital and keeping pace with new advances through the development of the Hybrid Operating Theatre was a key objective for the UL Hospital Group's consultant vascular surgeons.
There are now four consultant vascular surgeons at UHL: Prof Paul Burke, Mr Eamon Kavanagh, Mr Tony Moloney and Mr Yasser Abdeldaim.
Speaking at the official opening of the hybrid operating theatre on Tuesday, Mr Moloney said that it takes UHL Vascular Surgery to the cutting edge.
"Combining hybrid imaging with advances in endovascular technologies will allow us to offer the full breath of minimally invasive vascular interventions to our patients. Furthermore, hybrid rooms reduce radiation exposure, making even long procedures safer for patients and staff.
"The Artis Q, Siemens fixed imaging system is state-of-the-art and includes EVAR 3D imaging. Vascular Surgery is indebted to the JP McManus Benevolent Fund and Management of UHL," he added.
by Tom McCullough
news@limerickpost.ie