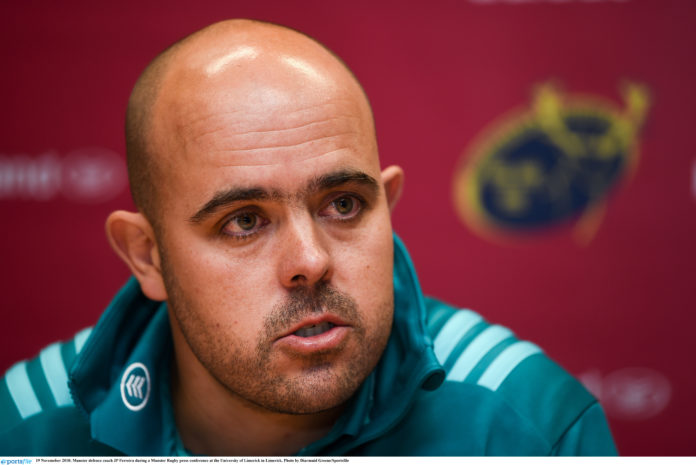 Munster defence coach JP Ferreira is nearly a year into the role and is enjoying every bit of his time so far at the province. The South African admits that Munster have had a mixed start to the campaign but improvement for the rest of the season is very much in the offing.
"We have wrapped up our first block of the season. It was a good first block," said Ferreira at Munster's High Performance Centre this week. "Glasgow, Exeter, Gloucester and obviously the Cheetahs – getting some good points there.
"Obviously, Zebre is the next level and start of a 10 week block. We have obviously got to focus on what we want to achieve in this 10 week block and they other thing is that Zebre have beaten Cardiff and Bristol over there. They have had a good run at home like most sides do. It's going to be tough away."
Ferreira spoke about bringing through younger players at the province when the international players are away and it's a belief that is at the core of what the province are trying to do.
"For us it's about improving our squad depth. If every week we can do that, it's going to be in our favour. If we can get the next in line in and improve them, ultimately the goal is to get them in green jerseys.
"But also before that it is to perform for Munster and to be on a level as to when an international player leaves, they will step up and we get the same intensity in their training and the same performance as an international."
The Defence Coach also gave an insight into the differences between his work in South Africa and his experiences since moving to Munster. He said that it has been a case of minor changes to what was already in place at Munster rather than wholesale ones.
"It's not a big change but there are intricate parts that are different between northern and southern hemisphere sides. I have taken that on board and have used it and changed one or two little things.
"But for me coming in it was a bit more of me sticking with what Munster was used to and not inflicting too much difference. The individual can't change everything. It's the team changes so certainly we have kept a lot of things and I have also implemented a couple of things on my side."
Ferreira has enjoyed his 11 months thoroughly at Munster, with the support of the fans being a constant whether the team wins, loses or draws being a highlight.
"It's so much different to South Africa in the sense of the people around you. The support is unbelievable. We have seen in South Africa at the moment that it's fading away but over here it really is unbelievable.
"You see how the supporters support you from when you lose a match to when you win a match. They just stay the same. They have the same respect and feelings for you and I think that it gives the lads a big go to on game day. It's not just about disappointing yourself if you lose, it's about disappointing the fans and it plays a big role."
The post Ferreira pleased with Munster progress this season appeared first on Sporting Limerick.