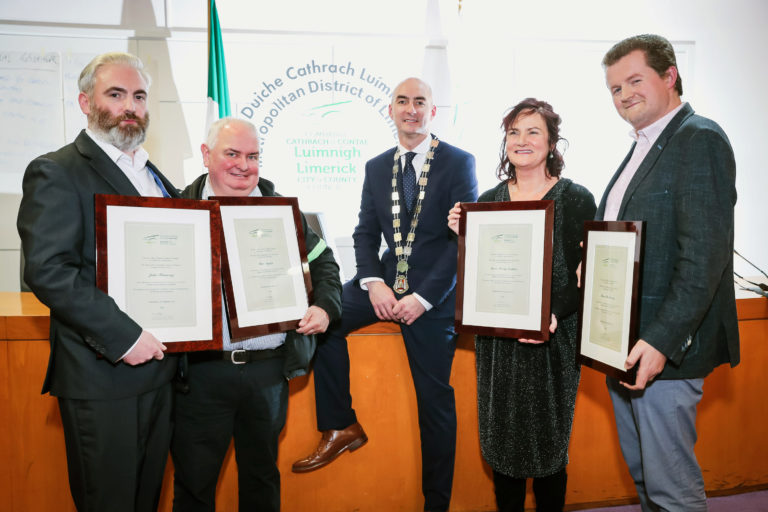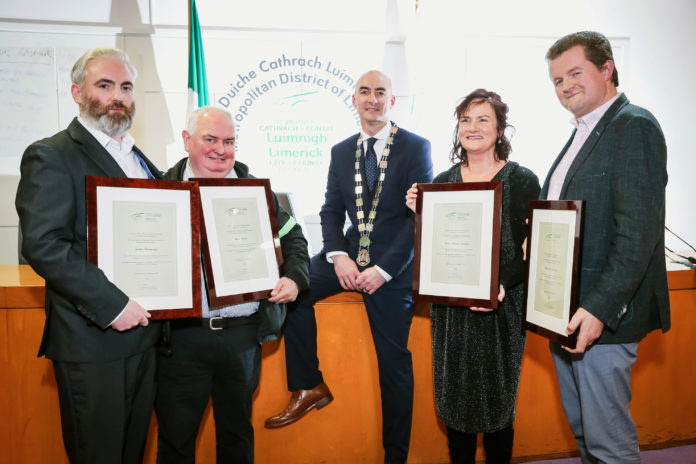 IN EARLY November Metropolitan Mayor Daniel Butler put out a call on Twitter looking for help to identify a list of unsung heroes of the local music scene. From there followed some extensive research both online and offline into Limerick individuals in the background making music happen in the city in various ways.
After lots of "discussions and heated debates," says Mayor Butler, the list was whittled down to four people.
On Thursday last, Máire Keary-Scanlon, John Hennessy, Shane Curtin and Ber Angley were honoured by the city. A large crowd from the music community in Limerick came out in support at the event at City Hall.
The speeches made on the night highlighted how these people had contributed to the musical landscape of the city for many years. The Mayor commented that he is a huge music fan and highlighted why he organised this event.
"Growing up as a massive music fan and attending gigs in the city over the years, you go see the act that is there and you forget about all the people in the background who made that happen for you, who made that moment for you.
"We have incredible people really committed to music in the city. We are really very fortunate."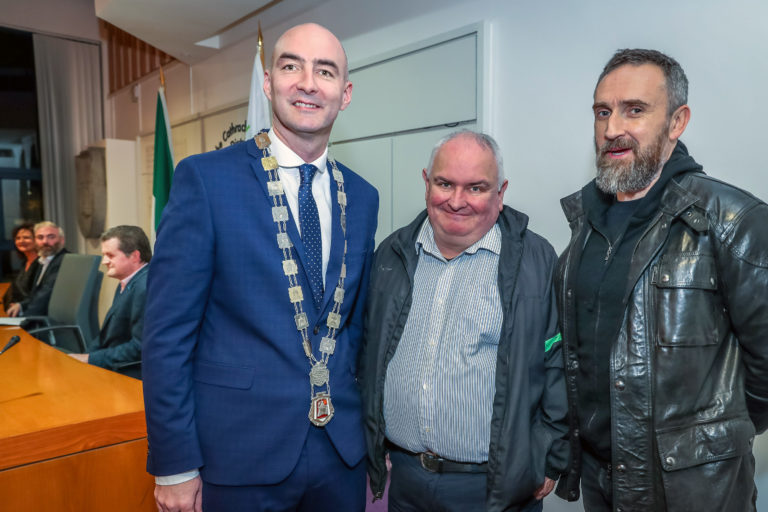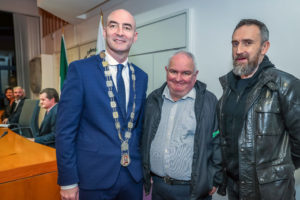 Ber Angley is synonymous with events / entertainments at University of Limerick since the 1980s.
He is also a documentary maker and DJ and is highly regarded in the music industry. Ber brought many acts to the college in Limerick and put the city on the map as a destination for international acts: Lene Lovich, Ned's Atomic Dustbin, The Wedding Present, to name a few.
Professor Eoin Devereux spoke about Ber's achievements.
"He had the capacity to imagine and dream and say 'why can't we do things like this?'."
Ber also played a part in getting Limerick's most successful music export signed to a major label. He played a very significant role in the history of the band, booking them for The Stables Bar and rostered them on national tours of the colleges in their early days.
Ber booked The Cranberries for a Rag Week gig at The Jetland on Ennis Road. (where Dunnes Stores / Woodies is now).
Prof Devereux told the audience, "There were 32 A&R men from the record industry hoping to sign The Cranberries.
At that gig a man called Denny Cordell of Island Records made a deal with The Cranberries. It was a historic night in the history of the band that went to global success."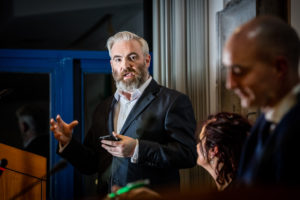 John Hennessy books and promotes live gigs in Dolan's under the moniker Seoda Shows. The Limerick man worked at Whelan's Dublin as booker for many years before returning to the city where he was persuaded by friends to book music into Bourke's Bar and afterwards, joined Mick Dolan and team on the Dock Road.
Seoda Shows has booked Thurston Moore, Grant Hart, Andy Irvine & Paul Brady, Rusangano Family, and Panti Bliss and more recently Fontaines DC, Girl Band and The Murder Capital for memorable shows across the city.
Mick Dolan praised John's instinct for finding cutting edge artists and booking music acts that are about to blow up in the music scene.
"He is an exceptional character and when John books a gig, you know it will be a good gig.
"He is able to pick the bands that are moving up. An exceptional talent. John can see them before they hit the limelight."
In accepting his award, John mentioned some of the other extraordinary talents in the city that have helped and shaped his vision for Seoda Shows in a city he describes as "positive, honest, loyal and amazing place for all of us": Shane Serrano for his design and filming, Bob O'Connell and Tom Fitz (Termites). "They generationally changed the city and made it liveable at a time that it wouldn't have been so liveable otherwise." He also thanked Clare Murphy (Bourke's, The Commercial) for her role in "making things happen behind the scenes."
Máire Keary Scanlon is synonymous with music and choirs in the city. She studied music in the Limerick School of Music, on piano and organ, studied singing Dublin College of Music and attained first class honours in Choral Direction at Trinity College.
It would be easier to list the choirs and musicals she has not worked on, such is the long list of credits and awards for her choirs and personally herself, as choral director.
She is a founder member of the Children's Choir Cantette and multi award winning women's Chamber Choir, Seoda.
Now working at the Irish World Academy of Music & Dance in UL, Máire was praised for the huge volume of work she does for choirs and musicians in the city – a patient and calm teacher who brings her students along, getting them to reach full potential.
In accepting her award Máire told a sweet story that encapsulated the dedication and love of music that all four recipients and everybody in the room could relate to.
Talking about her upbringing, Máire told attendees that she grew up in a house where music was ever present.
"There was constantly music in the house." In the very early days when they [her parents] didn't have to cent to rub together, they were given a present of some money to buy a bed and they bought a piano!"
"We all grew up playing that piano."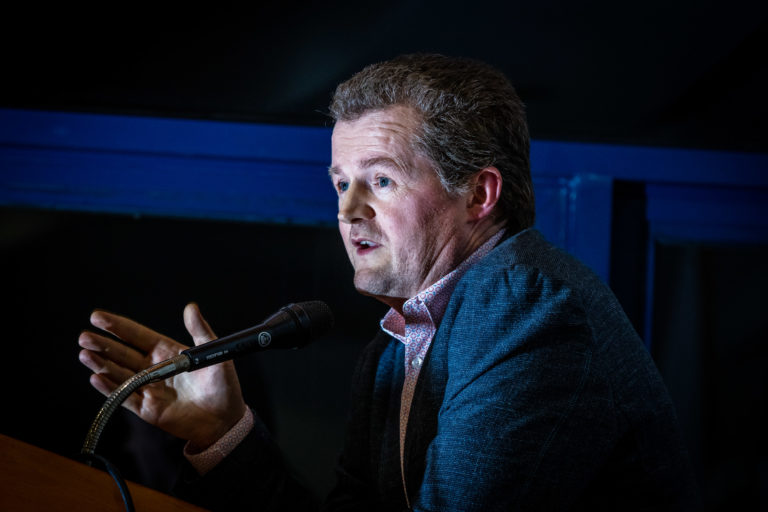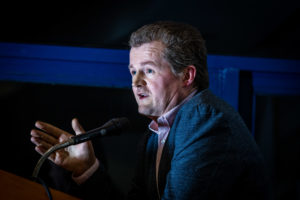 Shane Curtin has been involved in promoting hip hop and reggae events in Limerick since the mid 90s. He founded the award winning music blog Sheeba and now has lent his vast experience to the annual Make A Move Festival of Hip Hop Culture for the last seven years.
Introducing Shane to the audience, Paul Tarpey commented, "Hip hop would always remain underground if it wasn't for people like Shane."
"He is always very committed and always very much in the background, the grease that makes all the cogs work together."
From his early days broadcasting hip hop on Wired FM, Shane has been passionate about the upcoming and under-represented in music, spotting people and places across the city where events can take place.
Much of the groundwork done by Shane and other volunteers in the hip hop scene have succeeded in changing the perception of rap music in the city to one of expression and art.
Workshops in Music Generation Limerick and new indie labels, Unscene and Prescription are producing phenomenal talent which has "collectively boosted the image of Limerick," commented Tarpey.
Limerick/ Clare hip hop trio Rusangano Family who won the Choice Music Prize for their 2016 album 'Let the Dead Bury the Dead' is a case in point.
Expect plenty more success stories from these unsung heroes in 2019!