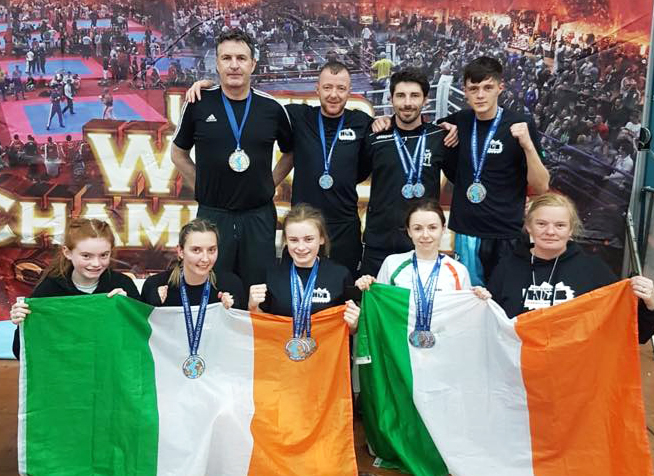 MEMBERS of the Hub Limerick Kickboxing Club returned home from Italy weighed down with medals after their impressive performance at the Martial Arts World Championships.
Seven Limerick competitors from the New Road, Kileely-based club brought back 12 medals from the Unified World Championships in Carrara. Over 28 International Federations and 5,000 athletes participated and the Irish competitors put in a hugely impressive performance, with four new Limerick world champions among them.
Learning Hub Limerick Kickboxing Club scooped five gold, five silver and two bronze across several disciplines at the world championships in Italy.
Interestingly, coach and competitor Paul O'Brien (37) and his son Tyrone Cronin O'Brien (19), as well as Paul's girlfriend Sarah Howard (31), and Tyrone's girlfriend Hayleigh Kiely (18), all won medals at the games.
Hayleigh Kiely, already an Irish and Five Nations Champion, as well as a student at Mary Immaculate College, won two gold medals — one in Kickboxing and one in K1 rules.
Tyrone Cronin O'Brien, a first year student at LIT, also claimed a gold medal and became full contact kickboxing champion of the world.
Robert Maloney and Michelle Fitzgerald both had the performances of their lives to clinch a gold medal apiece. While Liam Purcell, Sarah Howard and Paul O'Brien, who travelled as both coach and competitor, all gave their utmost and did very well to take silver medals.
All seven athletes represented the Learning Hub Limerick Kickboxing Club, which is open to everyone regardless of age or experience. Classes take place on a daily basis at the Club's gym in Kileely, on the north side of the city.
"The club started up over ten years ago after my own coach PJ Bennis passed away. This left an empty space in my own life and soon after a couple of lads approached me and asked me to teach them martial arts. It was a slow process. We started with one punchbag, but now we've gone on to produce four world champions," Paul told the Limerick Post.
"The club has changed a lot of people's lives. Some kids were going down the wrong road and it gave them a new focus. For other's, it some place to blow off steam, and it's also good for the mental health."
For more visit Learning Hub Limerick Kickboxing Club on Facebook.