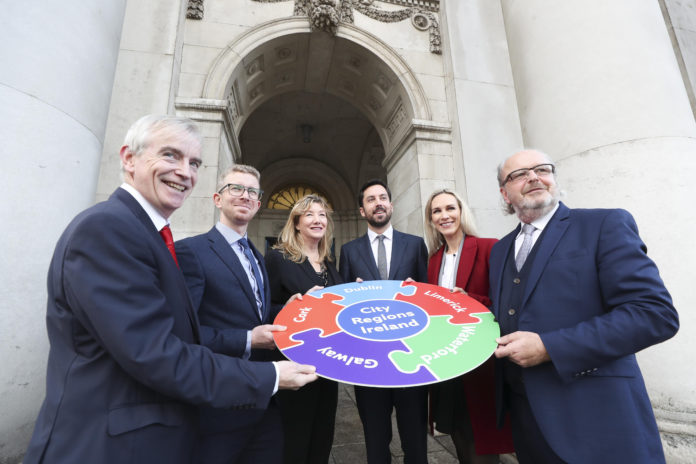 LIMERICK Chamber, as part of a new 'City Regions Ireland' initiative, has outlined a number of issues aimed at safeguarding the future of city businesses under Project Ireland 2040.
City Regions Ireland is a new group bringing together the Chambers of Commerce of Cork, Dublin, Galway, Limerick and Waterford.
At the meeting with Minister for Housing, Planning and Local Government Eoghan Murphy to launch the new group, Limerick Chamber chief executive Dee Ryan outlined key issues pertaining to the Limerick region including the rejuvenation of Limerick city centre, housing, public transport and air connectivity at Shannon.
She said the rejuvenation of Limerick city centre "is at the top of our agenda".
"This is very much underpinned already by Limerick City and County Council's €9.1million O'Connell Street revitalisation, iconic projects like the Opera Site and Gardens International but we definitely need to look at other initiatives and incentives."
Regarding housing in the city, Ms Ryan commented: "One of our biggest challenges is to deliver high-quality city centre dwelling but at the same time balance that with the need to preserve the best of Georgian architecture. Looking at the uptake of the Living City initiatives, that's a balance that has not been achieved yet. So, this whole area needs to be revisited through a mix of looking at planning requirements and the incentives packages together. At the moment, it is cost-prohibitive and we need to bridge the gap."
The City Regions group will work for the common goal of ensuring the country's five cities are developed sustainably and to support a population projected in the National Planning Framework to grow by 25 per cent in Dublin and 50 per cent in the other four cities by 2040.
As part of their collaborative effort, the five city chambers have formulated eight principles spanning infrastructure, housing and planning to inform policy making, maximise growth, and tackle the common issues and opportunities in the larger urban regions.
by Kathy Masterson
[email protected]