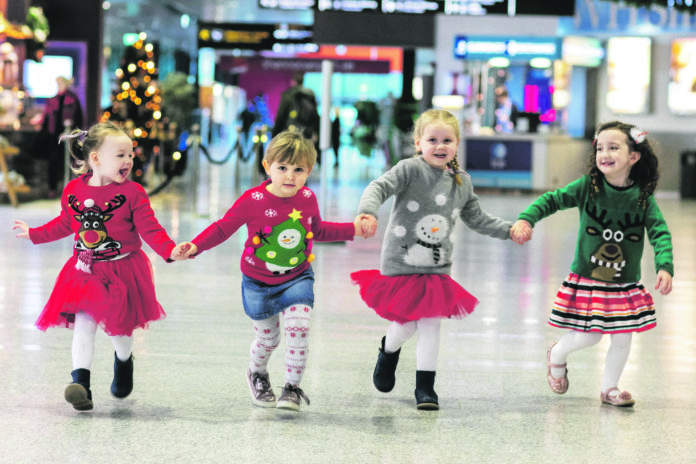 CHRISTMAS festivities got off to a flying start over the weekend for 2,000 lucky children and their parents who got to meet Santa 15,000 feet above the West coast of Ireland.
Spirits soared as Santa jetted in, out and around Shannon for his sixth successful Shannon flights pre-Christmas extravaganza.
The annual Santa flights have become very much an annual fixture and the two-day event saw children entertained by dancing elves and festive fun and games in the transit lounge before boarding what was for many of them their first flight.
The much sought-after tickets were allocated through a lottery system. The €1 per seat lottery application fee and the €1.50 booking fee went to the Shannon Group's designated charities, the Share a Dream Foundation and the Clare Crusaders.
The flights were a magical experience for the children and their parents, including Limerick woman Eimear Mulcahy from Clareview who said, "I came here with my sister and we had my two daughters, a friend of theirs and two nieces from Cork. What a great way to start the Christmas season. It was great fun. We loved every minute of it, from the moment we walked into the airport.
"Everyone was so great to make such a fuss of the kids. The kids had great fun beforehand, got onto a flight, saw Santa and then got to see the fire-truck at the end, which finished it off perfectly. It's great to think that it's all in aid of charity too. It's great credit to Shannon Airport."
Shannon Airport Managing Director Andrew Murphy said the Santa Flights have become a real highlight of the Christmas season.
"It was a busy two days but full of fun. From our perspective, it's just great to be able to spread a bit of Christmas cheer and put smiles on so many children's faces.
"It's a big logistical task, from ensuring that the children and their families have plenty of fun and are kept entertained while they await their flight, to all flights are running smoothly and that Santa arrives safe and sound back in Lapland. But it's definitely worth it when you see all the joy it brings."
by Tom McCullough
[email protected]