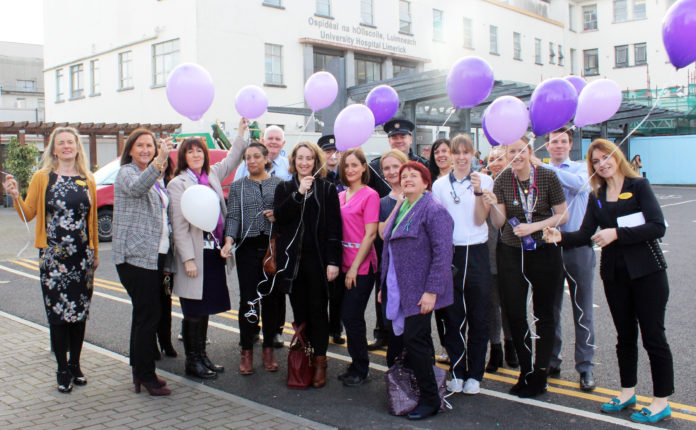 STAFF from the University of Limerick Hospitals Group have joined forces with An Gardai Siochana, Rape Crisis Mid-West, Adapt House, Clare Haven and Ascend Services as part of the international campaign 16 Days of Action Opposing Violence Against Women.
The campaign lasts until mid-December and part of a worldwide initiative that links actions in Ireland to global action on violence against women.
Last week, large crowds turned out for the Purple Up rally, where candles were lit for each of the stolen lives of 216 women in Ireland who died violently since 1996.
Businesses in the city and county decorated with their premises with purple streamers, balloons and posters for the duration of the campaign, running a range of activities to raise awareness about issues of domestic, sexual and gender-based violence.
As part of the campaign, the Medical Social Work (MSW) Team at UL Hospitals invited staff, partner organisations and members of the public to their annual event at UHL.
The event was launched followed by a balloon release, in the 'purple up' campaign colours, outside the main hospital building.
The MSW Team in UHL offer a confidential, support and information service to those who are affected by domestic violence across all the UL Hospitals Group. They meet and work with women, children and families who attend the hospitals having experienced or who are at risk of abuse.
Anne Hegarty, Manager of Medical Social Work Services at UHL, said it was important "to look at this year's campaign theme 'Change the Conversation', which puts a focus on how we discuss and speak about domestic violence and femicide.
"The campaign highlights myths surrounding domestic violence and challenges these. One in Five Women experience some form of Domestic Violence in Ireland and Women continue to face deeply ingrained myths in our society," she explained.
The ending of violence against women is embedded as one of the UN's Sustainable Development Goals which the international community have signed up to in order to address global problems of poverty and inequality.