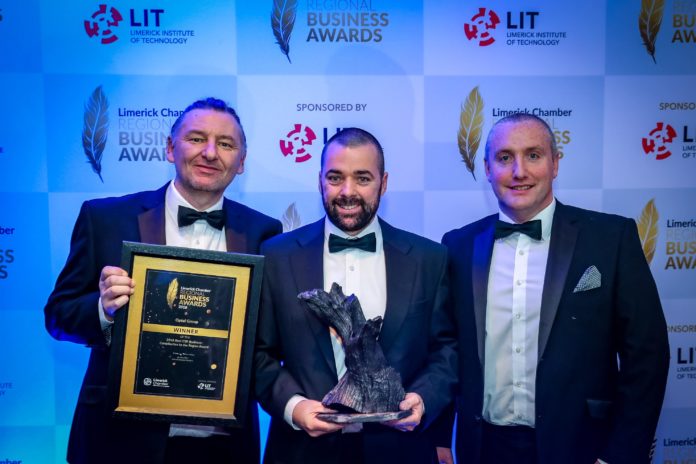 THE OPTEL GROUP was winner of the Corporate Social Responsibility (CSR) category at this year's Limerick Chamber Regional Business Awards, which honours businesses that operate with success and distinction in the Mid West.
Among the initiatives undertaken by OPTEL employees over the past year, was the Back to School for Barnardos initiative, which involved donations of stationery and school supplies to children in need; painting and revamping four classrooms at Gaelscoil Sairseal in Roxboro and raising funds for the Special Olympics.
OPTEL's Limerick plant is the base for the multinational company's entry into Europe, the Middle East and Africa. Since 2014, the Limerick facility has grown significantly expanding to 100 employees, with further growth expected in 2019.
According to plant manager Michael Broughton, the company wants to make a positive impact on the region and they do this by providing quality employment and using their influence and resources for the common good.
"We are committed to promoting sustainability, which is why OPTEL Ireland has spent the past three years developing its leadership team to focus not only on the technical aspects of successfully exceeding the demands of the market, but on encouraging the spread of the OPTEL culture within the Mid-West's business ecosystem.
"Since we established our CSR committee in 2015, we have been very active both on site and in the local community. All our staff get involved in CSR activities in some form. Our CSR strategy is broken down into three distinct areas – Sustainable Development (Environment); Sustainable Health and Community involvement.
"Initially we focused a lot on fundraising but 18 months ago we took a decision to utilise our skills and donate more of our time to our charity partners. Our strategy for 2019 will be similar and we will be expanding our community involvement by rewarding those who are involved in their community.
"Without dedicated staff, none of this is possible. Winning awards acknowledges their hard work and achievements, so the Chamber award will boost morale and improve motivation. Employees are focused on what's great about the company they work for and can feel proud to be a part of it.
"For those thinking of applying next year, my advice would be to maximise their contribution to the community and the application will take care of itself," he concluded.