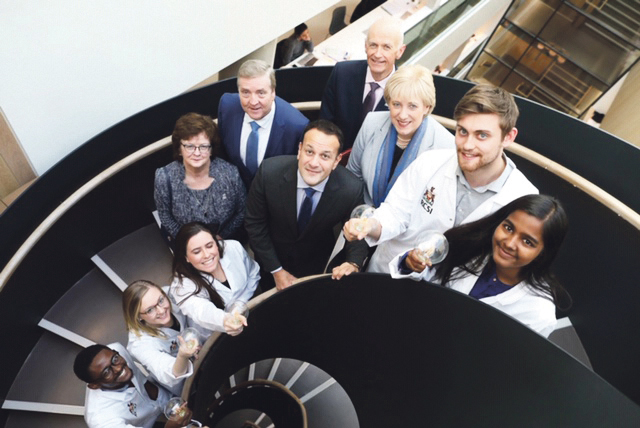 FOUR Limerick projects have received €17.2 million under the first round of the Disruptive Technologies Innovation Fund for bringing new technology and methods to the world of clinical medicine.  
The successful Limerick projects include a consortium including Curran Scientific, Raheen, which will receive a maximum of €8.4 million towards a project which aims to disrupt the Viral Gene Therapy Market using a new Polymer-based Delivery Platform.
Sign up for the weekly Limerick Post newsletter
Also being funded is HookeBio Ltd, which will receive up to €1.9 million as part of the consortium working on the High throughput microfluidic drug screening platform project. The HookeBio platform is a disruptive technology that will allow pharma companies and clinicians to develop more accurate and responsive disease models for drug testing.
University of Limerick-based Cala Medical is part of a consortium that has been allocated a maximum of €5 million for the project involving therapeutic enzymes as a treatment for sepsis and other immune disorder diseases. The consortium is a developing a disruptive technology platform, Cytoflow5, for the treatment of sepsis which will be expanded to include new therapies for the treatment of other diseases including psoriasis, arthritis and Crohn's disease.
Meanwhile, Limerick-based Stryker is part of the consortium that is to receive up to €1.9 million towards the project E-BAMBI – Enhanced Biocompatibility of Additively Manufactured Biomedical Implants for Improved Clinical Outcomes.
This project will use 3-D printing and will focus both on the creation of implants with improved functional properties and on metallic structures that can be absorbed into the human body when they have successfully completed their clinical function.
Minister of State Pat Breen said the projects represent exciting collaborations on disruptive technologies innovation and show the immense societal and economic benefit that can be gained from engaging positively with disruptive technologies."
Senator Maria Byrne (FG) said the Disruptive Technologies Innovation Fund was a key part of the Government's Future Jobs initiative, a new whole-of-Government plan to secure Ireland's economic success.  
"This fund is about ensuring that Ireland – and Limerick – can stay ahead of the game to secure the jobs of the future. I am delighted Limerick will benefit from such an excellent initiative." 
Limerick Senator Kieran O'Donnell  (FG) congratulated the four Limerick projects that received funding from the first round of the disruptive technologies fund.
"Having worked first-hand with the likes of Cala Medical, Curran Scientific, UL, I know of the dedication of the people involved and the cutting edge element to these projects," he said.