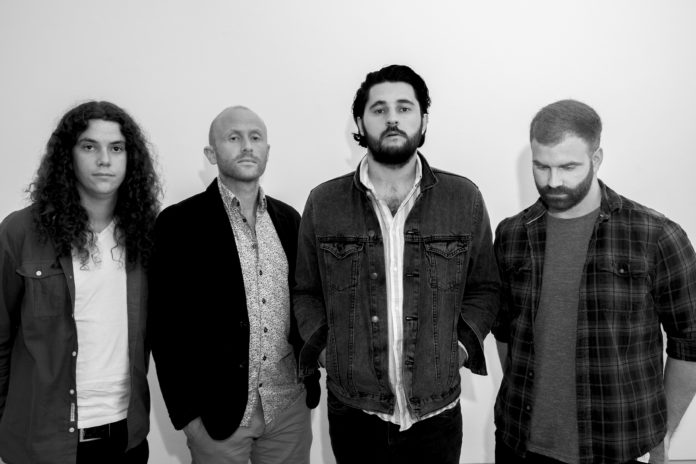 WEXFORD alt-folk band Corner Boy have a new video and new EP out. New single 'Moira (Under The Pale Moonlight) was recorded at Grouse Lodge Studios by Grammy Award winning producer Ted Hutt (Old Crow Medicine Show, Dropkick Murphy's).
Their new video for 'Moira (Under the Pale Moonlight)  was shot under cover of darkness set across a number of town-lands in South County Wexford.
The strong song has an engaging video with an uplifting storyline that will keep the viewer hanging around till the end.
The story of 'Moira' was written and directed by the band and Johnny Stewart of production company – heavy echo.
Mick D'Arcy of Corner Boy spoke to Limerick Post about the release.
"We were looking at the way music is nowadays, you need a fully interactive experience as regards the media. We set the challenge to ourselves to be creative in another way. There is the arc of a character and you are kinda rooting for him."
It also helps to have a story that keeps the listener on board with the song right through to the very end.
It also helps to have a story that keeps the listener on board with the song right through to the very end. Corner Boy in their first two years have toured almost every county in Ireland, played in Croke Park at half time in an All-Ireland final.
They also played in in North America, Europe and in the Middle East. All this experience is there and forms the basis of the new EP, a culmination of three years work.
Corner Boy's most recent adventure was a six date tour of South Korea. The band is treated professionally but all five have day jobs too. Mick is a farmer in Wexford and when the call came from an international music festival in South Korea who wanted an Irish folk band, Corner Boy were ready to travel and were soon playing to 6,000 Koreans who fell for their mix of Irish and bluegrass music, proving that there is a universality to Irish folk and bluegrass that gets crowds on their feet and dancing on tables the world over.
"We are rooted in the genres we grew up playing in Wexford. This record is very much our sound."
This gig has been on the groups radar for a long while, their Limerick friends Hermitage Green introduced them to Dolan's and Corner Boy are looking forward  to giving it everything at the Dock Road venue this weekend.
Check out Moira (Under the Pale Moonlight) on YouTube.
Corner Boy play Dolan's this Saturday December 15 – supporting The Riptide Movement in Dolan's Warehouse followed by indie disco Christmas Party til late.