GALLERY Interlude, a joint project between Contact Studios and Lucky Lane, is set for a new show 'Network Contact', works on paper by 16 members of Contact Studios past and present.
'Network Contact' opens this Friday December 14, from 7pm to 9pm, and continues into Saturday 15  from 11am until 3pm, Sunday 16  from 2pm to 4pm. The group show then sees out a final day, Monday 17 from 11am to 3pm at Lucky Lane's indoor space on Catherine Street.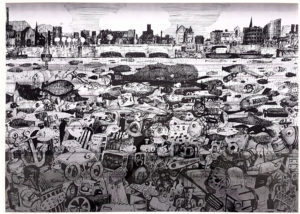 'Network Contact' celebrates 21 years since Contact Studios' establishment in 1998, showcasing the works of 16 members from past to present. The experience in Lucky Lane features drawing mostly, in its most diverse sense, and the majority of the works were produced specifically for this exhibition.
"The exhibition is not so much an overview of the lasting legacy of Contact as a local, national, and international bedrock for the Visual Arts and Artists," explains their longstanding chairperson, Carl Doran. "It is rather a sampling of artistic disciplines and approaches from Contact members.
"Here we celebrate the bonds formed and the interconnection we share having benefited from Contact Studios as place of work, social space, and long term incubator of ideas and community spirit."
Objectives:
To provide a forum for Limerick based artists to exhibit their work direct to the public, in a city sorely lacking these opportunities.
To stimulate footfall and participation in the city's cultural life.
To highlight the lack of studios and available cultural outlets in the city.
Network Contact Artists:  Kathleen Bartlett, Julie Brazil, Ann Daly, Michael Delohery, Carl Doran, Maurice Foley, Declan Greene, Seán Healy, Luci Lane, Laura MacMorrow, Hugh McMahon, Anne Marie Morrin, Gerry O'Mahony, Ciarán O'Sullivan, Nuala O'Sullivan, Isabella Walsh.