IN October Emma Langford won the RTÉ Radio 1 Folk Award for Best Emerging Artist and takes a new project on the road for a short Irish tour in December.
Emma is collaborating with violin duo Lucia and Maria who performed in Dolan's Limerick at the  I Heart the Cranberries fundraiser this year. They opened the night with a haunting instrumental rendition of Zombie and joined in on stage for other performances.
Many of Emma's songs have been rearranged for this tour by the violin duo.
"They've re-imagined a few of my songs in a way I couldn't really have imagined. They're deadly," the singer told Limerick Post.
The tour is organised to launch their debut album, 'Lucia and Maria Live at the Chapel'.
Lucia and Maria met while studying in Cork, where they also formed string-quartet Strung. In their compositions and arrangements they combine their traditional, classical and folk influences. Both completed their Masters' at the University of Gothenburg, Sweden last year, before returning home to Ireland to record their debut album.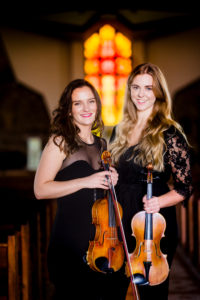 Emma's debut album Quiet Giant, produced by Grammy-nominated team The Production Suite has received high praise from the critics since its 2017 release.
See Emma Langford with Lucia and Maria at Limerick City Library, The Granary on Friday December 14 from 6.30pm. It is a Free show and bound to fill up fast.
The trio will also perform at High Nelly Vintage Bike Cafe, Pallasgreen on Thursday December 20.
Listen to Emma Langford's debut Quiet Giant on bandcamp.com or even better buy it at Steamboat Music or Golden Discs.