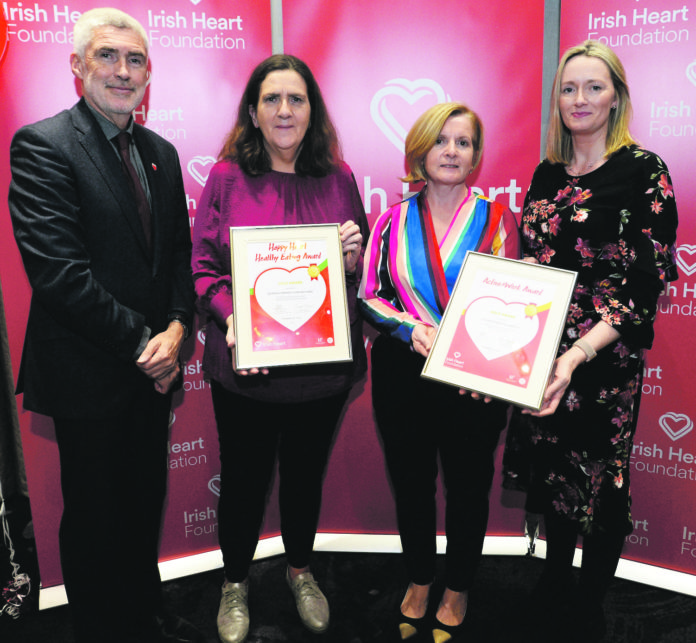 SEVEN Limerick-based companies and organisations have proved to be all heart.
Dell Technologies, Mary Immaculate College, Croom Orthopaedic Hospital, Milford Care Centre, St Ita's Community Hospital and University of Limerick Maternity Hospital all received the Happy Heart Healthy Eating Award from the Irish Heart Foundation for leading the way in prioritising their employees' heart health.
The Limerick award winners were among 98 companies from around the country that were represented at the annual Irish Heart Foundation Happy Heart Healthy Eating and [email protected] Awards in Dublin last week.
Six of the Limerick entrants received the Happy Heart Healthy Eating Award, which assists staff restaurants in adopting healthier cooking practices and providing healthier food choices, ultimately making the healthier choice the easier choice for employees.
The Irish Heart Foundation's [email protected] Award, launched in 2013, was also presented to St John's Hospital in recognition of their efforts to increase employees' physical activity levels at work.
Less than one-third of Irish adults meet the minimum recommended physical activity level of 30 minutes of moderate activity five times a week and Irish adults are spending on average 7.3 hours every day sitting down.
Research shows that people who sit for prolonged periods are more than twice as likely to develop heart disease and stroke, even if individuals are regularly physically active, while one third of premature heart disease has been associated with poor diets alone. With one quarter of the food eaten by Irish adults prepared and cooked outside of the home, workplaces can play a key role in offering healthier food choices and providing an environment that supports their employees to move more throughout the day.
A pioneer in the field of workplace health, the Irish Heart Foundation has been supporting healthy workplaces nationwide for over 20 years through its Healthy Eating Awards, which are supported by the HSE and Healthy Ireland.
"As workplace wellbeing gathers momentum it is essential that employers embrace the concept by providing leadership and support for programme implementation including the Irish Heart Foundation's workplace programme," said Biddy O'Neill of Healthy Ireland at the awards function.