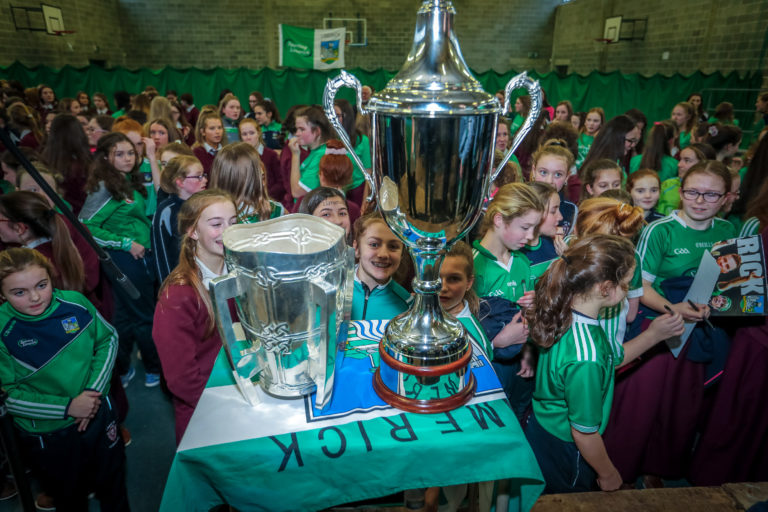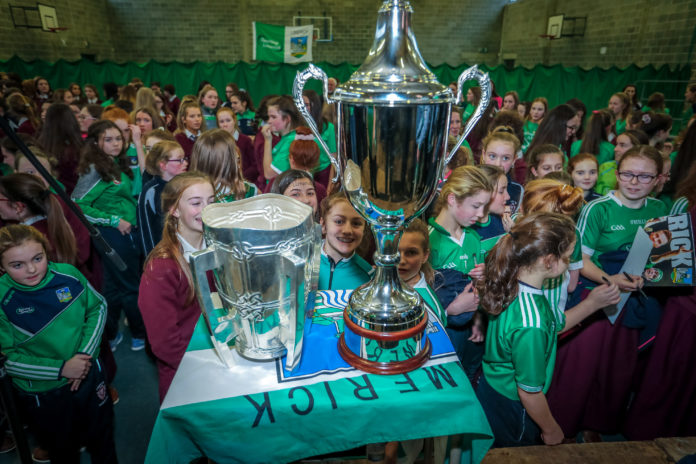 The Limerick hurling team that won the All-Ireland in August met the country's top school in Limerick on Monday during their country-wide tour of schools.
Laurel Hill 
Coláiste FCJ played host to Shane Dowling, Seán Finn, Pat Ryan and Darragh O'Donovan as they arrived with the Liam McCarthy Cup, bringing the school to a standstill.
Principal Aedín Ní Bhriain said welcoming the Liam McCarthy to Laurel Hill was a very special moment for the school.
"Today is a very proud day for Laurel Hill Colaiste FCJ, welcoming the All Ireland winners to our school. It's the number one school in Ireland and number one team coming to visit us. It's a great celebration of being from Limerick."
Continue reading below… 
Alma mater of the late Dolores O'Riordan, Laurel Hill Coláiste FCJ has been voted the country's top second level school five years in a row and is noted for many things, including its choir.
To bring the curtain down on the special visit, it performed the classic Cranberries song Dreams, which has become the motto for the school and very much the unofficial anthem for the All-Ireland winning heroes, to a captivated audience.
The rendition was led by Gráinne Ní Choinn and Aisling Ní Sheanaigh and backed by a 120 strong choir, evoked many memories of the famous past pupil.
Shane Dowling of the Limerick Hurling team said: "I think the choir here have done her justice. They're one of the best choirs I've come across. 
And the way they sang that song out at the end was a touch of class. I
t just shows the legacy that Dolores left in Limerick and the legacy that Limerick GAA has carried throughout the summer. It really, really is special."
Laurel Hill Coláiste FCJ Principal Aedín Ní Bhriain said that the song was about following one's dreams, which is what they try to instil in their students and what the Limerick Hurling team had done.
"We won our own All-Ireland then by being selected as the country's top school for the fifth year in succession.  To cap it all off then, we had the visit of the hurlers here with the McCarthy Cup.  It really lets us go out on a high from a very emotional year."
The non-fee-paying school located just off Limerick city centre, which was established in 1935 to assist in the revival of the Irish language, was Limerick's first Irish medium second level school and today has 410 students and 28 teachers.