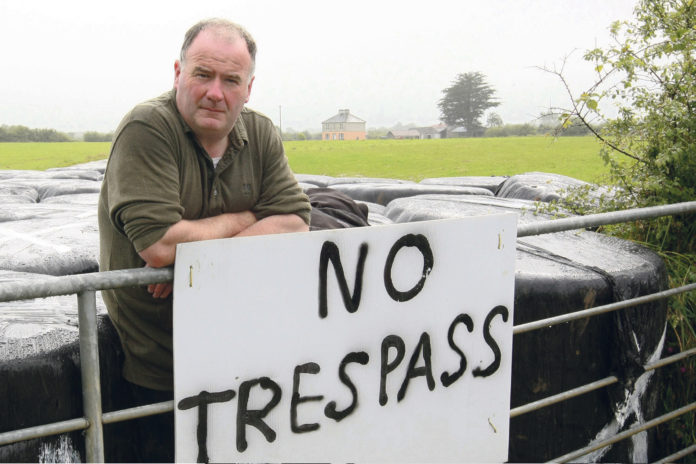 A FARMERS' representative from County Limerick has said that banks should be obliged to employ independent mediators to negotiate with debtors before seeking an eviction order from the courts.
Irish Cattle and Sheep farmers Association (ICSA) rural development chairman, Seamus Sherlock made international headlines six years ago when he barricaded himself into his home for a year after he was threatened with eviction from his farm at Feohanagh in West Limerick
Earlier this week he told the Limerick Post that he fears there will be scenes in Limerick like those which occurred recently in Roscommon, with vulture funds swooping to reclaim family farms and businesses.
"This is coming down the road. These vulture funds have nothing in mind except profit. They don't care how long a farm, a pub or any other business has been in a family," he said.
Mr Sherlock, who was supported by hundreds of people from all over the country when he was served with an eviction notice by the Bank of Scotland, said he wants the courts to make it an obligation on lenders to bring in mediators before asking for an eviction order.
"They are well able to afford to pay the top lawyers and barristers so they can well afford to pay for mediation. I believe that, in the majority of cases, a deal can be worked out that will allow people stay in their own homes".
And he appealed to people in trouble to "reach out.
"Make contact with us, with a family member or a local priest to get advice. If people contact us, we can at least look at the situation and get help for them from somewhere, he explained.
"Everyone thinks their debt situation is the worst. I have people ringing me all the time saying their situation is impossible but very often, things are not as bad as they think. People are lying awake at night trying to carry this on their own".
He also believes that the shame factor has to be taken out of the debt problem.
"I tell people that they are not failures – it's the system that has failed them," he said.
"The mental health problems that arise from the shame of being in debt are very serious. We have to start talking about this".
In a statement issued by the ICSA press office, Mr Sherlock called on financial institutions and vulture funds to "cease the draconian act of forced eviction.
"The unfortunate scenes that unfolded at a Roscommon farmyard were reminiscent of something from the turn of the century. Nobody wants to see families being dragged and beaten out of their homes by security personnel."
"There has to be a better way. Dragging people out of their homes will not solve the problem only inflame an already highly charged situation," he declared.
"ICSA's mantra has always been mediation not confrontation. Banks and vulture funds must sit down with families and explore every avenue to restructure the debt so that all parties can move forward with consensus and certainty.
"ICSA is at the forefront of dealing with people in debt and have seen a sharp rise in the number of people seeking help with their efforts to restructure their debt issues with their lenders. Now however, our worst fear of a situation like in Roscommon has come true.
"Violence at farm gates is not the answer; meditation is the only show in town and ICSA are here to assist farm families who are making a genuine effort to honour their commitments," the ICSA statement concluded.