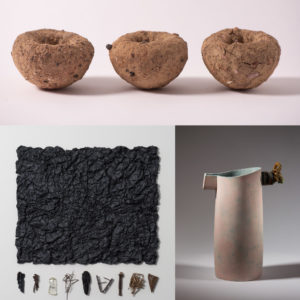 Current at The Hunt Museum until mid January, 'Blurring the Edge' sets out to show how "ceramic art can transcend our expectations in terms of its design and function, its history, the role of technology in its making and even its permanence."
The five participating ceramicists and visual artists are Mike Byrne, Mary Nagle, Marcus O'Mahony, Mandy Parslow and Owen Quinlan. Open daily into January 20.
Detail on the individual artists' approaches reads as follows:
Mike Byrne explores the jug form, which he sees as "the archetypical domestic object. It has clearly defined components which allow me to play fast and loose with the elements, with other materials, and with ideas around more formal sculptural concerns."
Mary Nagle's small sculptures and assemblages evoke memory and imagined ritual. "My work differs from the other four artists in so far as clay is not the predominant material used," she writes. "They are made from objects and materials both found and worked, natural and manmade, and inspired by the inherent aesthetic of the objects themselves."
Marcus O'Mahony makes stoneware and porcelain vessels, wood-fired in an oriental style kiln. His inspiration comes from the ancient and modern tradition of ceramic art and his intention is to bring fresh perspective to this lineage.
Mandy Parslow uses fired clay to explore place, embodiment and temporality: "Ceramics, so often valued for its permanence, becomes temporary as primal forms, evolved from the place itself, make their slow return to that place."
Owen Quinlan shows a new body of work, entitled Tessellate, which focuses on the repeat structure of the traditional ceramic process of tiling and uses the strengths of CAD technology – precision, efficiency, and speed of prototyping – to reinvigorate that staple tool of ceramic industry, the extruder.