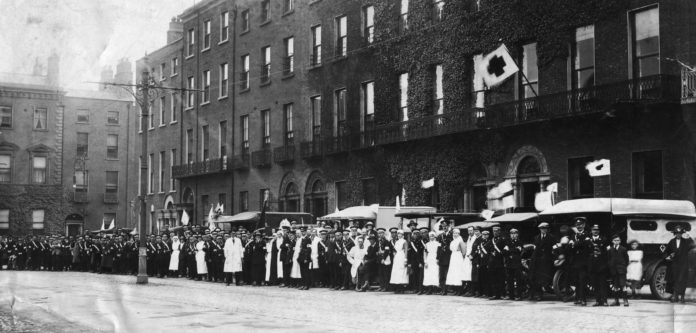 THE forgotten role of the St John Ambulance Corps during World War 1 has been resurrected by a Limerick man who is responsible for an exhibition that opens in the city's Granary Library this week.
The St John Archive was founded in March 2015, following a research project undertaken by local volunteer Pádraig Allen.
Sign up for the weekly Limerick Post newsletter
While at the organisation's headquarters Pádraig was given access to the basement and unearthed a collection of over 3,000 photos and records dating back to when the organisation began in Ireland in 1880.
"While Ireland is slow to remember its combatants in the Great War, it has in some areas completely forgotten the non-combatants who voluntarily devoted much of their lives to assist the humanitarian effort in Ireland," he said.
"These non-combatants came from all parts of Irish society. In the words of the St John Ambulance Brigade and British Red Cross Society report 1914-1918 'the contributions represent all social grades of the people, and all religious denominations, Catholic and Protestant, nationalist and unionist, rich and poor.'
"The tragedy of the First World War brought out the best in many Irish people. Thousands gave freely of their time. The volunteer work of citizens during the period of the war was extraordinary, they responded to the humanitarian call out during a time when no national health service existed. The number of volunteers, the range of activities, the funds raised, the sacrifice made, including the ultimate sacrifice, is largely unrecognised, unmentioned, and unremembered".
The exhibition, which opens at the Granary Library at 6pm on January 11, recalls some of those stories during the final centenary year of the war, recognising and remembering personal stories and the citizen's overall contribution.
St John Ambulance had a large division in Limerick during the war, with more than 50 members serving in Ireland and abroad.
One member of the Limerick contingent was killed when the RMS Leinster was sunk by the Germans in the Irish Sea.
Her name was Anna Maud Barry (26) and she was on the way to take up duty in a hospital in England. Anna is buried at the family plot in Rockstown Cemetery, Fedamore.