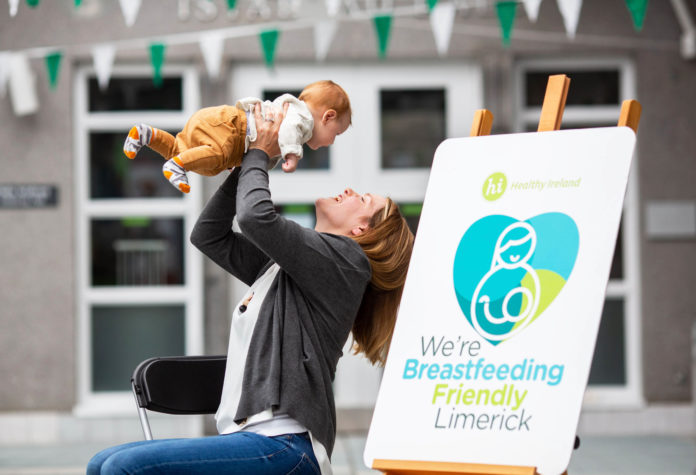 LIMERICK has become Ireland's breastfeeding friendly capital after 73 establishments signed up for a new initiative aimed at supporting nursing mothers.
The 'We're Breastfeeding Friendly' campaign, the first of its kind in the country, was launched by Limerick City and County Council three months ago with a number of partners including the HSE and Healthy Ireland.
The 73 establishments include hotels, restaurants, shops, museums, sports clubs, community organisations and churches.
The drive is aimed at improving the health and wellbeing of breastfeeding mothers, babies and their families by encouraging businesses, organisations and communities to become breastfeeding friendly.
Such has been the success of the campaign that other local authorities around the country will be rolling out 'We're Breastfeeding Friendly' in their counties and cities.
The initiative has also been shortlisted for an All Ireland Community and Council award, the winners will be announced next month.
Mayor James Collins said he is delighted and proud the initiative has taken off and says that there is still plenty of opportunity for more organisations to join.
"Our 'We're Breastfeeding Friendly' campaign has been a huge success. This reflects very positively on Limerick that is proactively supporting mothers and their babies. One of the hallmarks of Limerick's success has been its inclusiveness – how welcoming it is – and this is another great example.
"I want to thank the businesses and organisations who have already signed up and I'm hopeful and positive many more will do the same. Signing up is simple, cost-free and can make a great difference.
"This campaign is really about supporting our mothers, children and families. It was never intended as a breastfeeding promotion campaign but rather a campaign focusing on making sure the environment around babies and mothers makes breastfeeding as normal and comfortable as it should be."
Healthy Limerick co-ordinator Mo Foley Walsh said it was wonderful that Limerick had taken the campaign into its heart.
"I'm happy and proud of its success which is achieving its goal of nurturing a culture of connectedness, between agencies, communities and families across the city and county. It is a testament to the community of Limerick that this exciting initiative has been successful and that it will now be rolled out in other counties thanks to Healthy Ireland."
For information packs for We're Breastfeeding Friendly, email [email protected] To see who has signed up and to learn more about We're Breastfeeding Friendly, go to Limerick.ie and type breastfeeding in the search box.
by Kathy Masterson
[email protected]