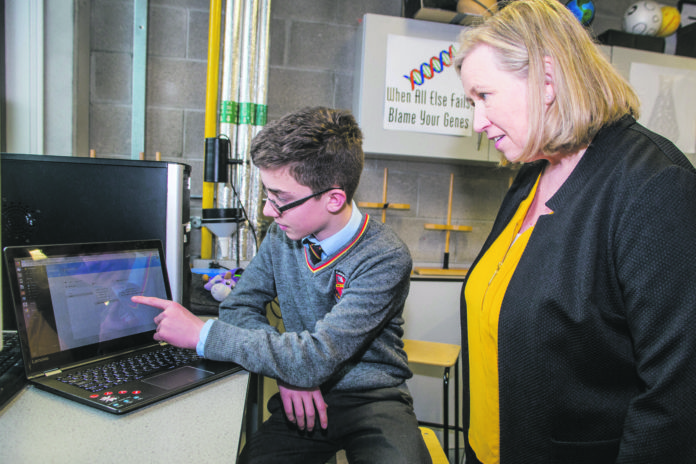 SCHOOLS in Limerick have covered themselves in glory with four entries winning special awards at the BT Young Scientist and Technology Awards and many others being highly commended.
Ardscoil Ris student, Niall Meade took an award for his 'Tag Buddy' messaging service, which makes it safer for teenagers to talk to their friends while Muireann Ni Chaoimh also took a special award back to Gaelscoil Luimnigh for her study on the use of antibiotics in County Clare.
Niall's Tag Buddy also took joint second place in the individual category of the Technology Intermediate section.
Meanwhile,  another Ardscoil Ris student, Jack O'Connor won an award for his 'How Now Brown Cow' invention, a collar with sensors which can monitor the animal's movements and alsp detect illness by recording changes in temperature and other indicators. A fourth award went to Ciara Brouder of Desmond College, Newcastle West for a special safety harness attachment which prevents suspension trauma.
Three Desmond College students, Prla Mullane, Lucy Flaherty and Matthew O'Connor won display awards as did Salesian Secondary College students, Jack Loyd, James Dunworth, Joe Sweeney, Tara Fitzgerald, Laura Madden and Aisling McGuinness.
The BT Educator of Excellence award went to James Deveraux of John the Baptist Community School in Hospital.
A total of 42 projects from LImerick schools made the final cut for the 55th BT sponsored competition and many went home with high commendation ratings.
Speaking at the Exhibition, where Cook Medical has a stand at the 'World of Science and Technology' section, Darach McGrath, Director of Global Research & Development at Cook Medical said it was a progressive and exciting time for the medtech industry in Ireland.
"We are predicting continued growth in this space over the next ten years and new skills are needed to meet industry demands. We're seeing an increased need for skills in data analysis, automation and robotics. These skills maximise the quality and efficiency of our manufacturing processes and help us better understand the performance of medical devices."
"The future success of the medtech industry in the Mid-West and beyond is dependent on strong, qualified talent. We look for employees with the relevant education coupled with the right mix of critical thinking, design, management skills and people skills to ensure the best outcomes for medical professionals and ultimately patients."
Cook Medical employs more than 850 people at its Limerick base, including its state-of-the-art innovation centre, works with physicians to develop, manufacture and distribute technologies, such as stents and catheters, that reduce the need for open surgery.
According to the Irish Medtech Association, Ireland is one of five global emerging hubs and is home to 450 companies, employing 38,000 people. Medtech generates approximately 10% of overall Irish exports making it a massive contributor to the economy. The sector is worth over €12.6 billion, with great future potential for growth.
In recent years, the Mid-West has gained traction as a global medtech hub. The region has welcomed a number of global multinationals and is now home to 43 of Ireland's top medtech companies.