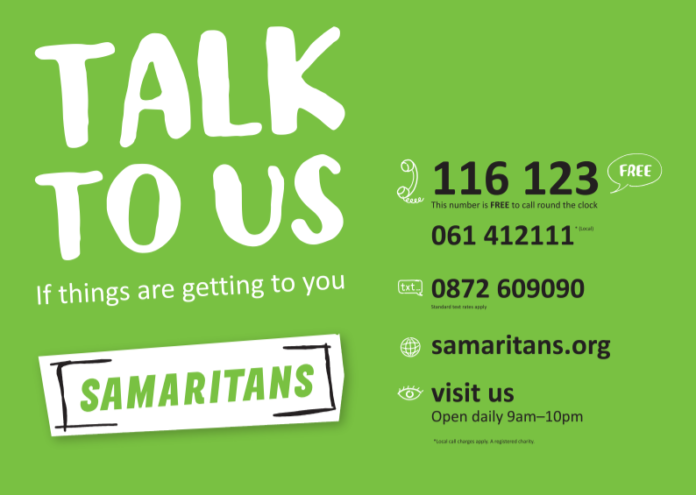 SAMARITANS Ireland are encouraging people to get involved with the charity in Limerick to give something back to local community and make a difference to people's lives.
Samaritans are best known for the vital support given to callers on its 24-hour telephone service, but volunteers are also on hand to offer support by SMS, email and face-to-face in communities, outreach events and in prisons.
Sign up for the weekly Limerick Post newsletter
Regional Director for Samaritans Ireland, Cindy O'Shea is now urging people to consider becoming a Samaritans volunteer.
"As Samaritans volunteers, we offer round-the-clock emotional support to anyone who is struggling to cope with whatever life has thrown at them," Cindy explained.
"Even on Christmas Day we answered almost 1,000 calls, spending more than 150 hours on the phone. Our busiest hour was between 10pm to 11pm when volunteers answered a call every 45 seconds."
Established in Ireland in 1962, Samaritans is based in 21 towns across the country with over 1,800 active volunteers on call 24-hours a day, seven days a week. And as we enter another new year, The Samaritans are calling on people to consider making a difference to someone's life by volunteering with the support service.
"As well as supporting people emotionally, there are a wide range of roles which ensure the running of the service 24/7, from administrative support to fundraising," Miss O'Shea concluded.
To find out more about becoming a volunteer with the Samaritans in Limerick contact your local branch on 0857101572 or fill in an application form on www.samaritans.ie/volunteer.