IS IT prophetic or disappointing, that a theatre maker known for social activism could craft a perceptive hit on greed three decades ago – and revive it to acclaim and relevance in 2019?
We invoke 'Bat The Father, Rabbit The Son', written and performed by Donal O'Kelly. It is a play that exposes and debates between father, son and the audience what is essentially a tussle between the amoral and moral. A soul for sale?
O'Kelly and Arts Page have met over the years. He has always had a campaign in one hand and a poke at the big shot in the other, most famously the adventures of Shell against eco-friendly warriors. Justice for Palestine is another cause and he is associate director of social justice group Afri.
Donal O'Kelly was appointed to Aosdána 12 years ago. He has a particular gift for 'a show in a bag', the small, mobile bullet that pierces complacency and rhinoceros hide with comedic ferocity. Limerick got to enjoy him in the vibrant Abbey Theatre cast for 'Jimmy's Hall' last year when it stopped at Lime Tree.
"This 'Bat The Father, Rabbit The Son' tour has 30 shows [going] — from 30 years ago on the road. It began in November 2018 and we did 10 before Christmas and will do another 20 before the end of March."
Adapted from the original director Declan Hughes' successful format, O'Kelly's daughter Clara Purcell is now producing and the playwright assumes the mantle of director.
He admits his delight in seeing 'Bat The Father' in such demand from venues throughout the country. "Oddly, when I perform it today, it does not feel like a nostalgic piece."
It comes to Belltable this Saturday 26 night at 8pm, book on venue manager www.limetreetheatre.ie
In interview, he has a thoughtful, lilting way of addressing the heavy stuff. So, what is this BTGRFS caper really about?
"It is basically the story of a haulage magnate, Rabbit, who makes a deal with his assistant Keogh to hand over the company, if Keogh handles all his requests over the coming year. It's a sort of Faustian pact.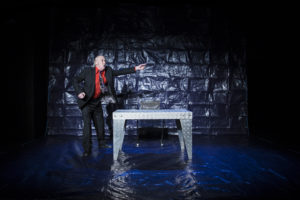 "But Rabbit is overtaken by his deceased father Bat in what is very much the world of '90s Dublin when it seemed to be run by a certain type of pinstriped creature.
"I've called him Rabbit and Rabbit was there, holding the shovel for Charlie Haughey when Charlie turned the sod on the Irish Financial Services Centre. It turns out all these years later that the IFSC was probably responsible for a lot of the debt we got into, caused this huge debt that we were saddled with and will be for generations."
Donal O'Kelly dubs that institution "a deliberately leaky bucket" and clearly its offence to the nation and its people grieves and angers him (read his researched programme notes).
But hey, this piece is theatre. An emotional ride, it is riotously funny as much as it is inventive, according to the critical plaudits and audience reaction. The dramatic device is that "Bat bubbles up and takes over Rabbit from time to time. The question that runs through the whole show is, is this actually real or is Rabbit possessed by his dead father – or is it real?
"Bat belongs to a generation that had an idealism." Donal, is that you?
"Maybe. It's that struggle between the idealistic life and the materialistic one, every time, that we know."
Mmmm. The legacy debt of les grandes follies of the few is Everyman's and has cauterised many a life; the comedy genius to this allegorical reflection is O'Kelly's.