HANGING in an exhibition opened in Limerick this week is a first holy communion dress.
It's a replica of the clothing worn by a child when she was raped.
Sign up for the weekly Limerick Post newsletter
The dress does not hang alone. There are boys communion suits too and school uniforms, office wear, layers of jumpers and skirts put on against a cold day.
The clothes are part of an exhibition called 'Clothes Don't Rape' staged to coincide with the official launch of the Survivor Support Anonymous group in Limerick.
"I asked people to tell me what they were wearing when they were raped and then found clothes that were as close a match as possible," said Leona O'Callaghan, rape survivor and founder of the group.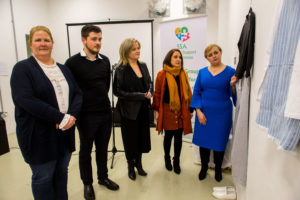 The purpose of the exhibition is to blast the myth of victim blaming by pointing to clothing as an inducement to rape or sexual assault.
Speakers at the launch in the Health Hub in the city included  Ruth Coppinger TD and rape survivor Debbie Cole.
Referring to the recent controversy about a woman's underwear being introduced as mitigation in a rape trial,  Ms O'Callagan said, "Our message is clear and I hope it does not fall on deaf ears. Rapists cause rape, full stop end of sentence.
"Surely the men of our country are equally insulted at the insinuation that they are so weak that a piece of clothing would influence their willingness to rape?
"Whether it is a g-string, a communion suit, a short skirt or a wooly jumper like we see here, the responsibility of the choice of a perpetrator to rape another person is not shared with the person they rape depending on what that person wore. Its time our judiciary system stopped the blame game".
Ms O'Callaghan is also calling for changes in the judicial system to give rape and sexual assault victims their own legal representation.
Having seen the man who raped her sentenced and his barrister pleading for mitigation on the grounds that she had only fought back once, Ms O'Callaghan said, "At 12 I did not have the ability to consent. Deciding to stop struggling when I lost that battle the first time, did not mean I consented.
"I was not willing, nor was I able, nor was I wanting the rapes. There is no such thing as a non-violent rape. Asking for mitigation due to my choices in handling myself during my rape as a child is just as wrong as insinuating that a woman wearing a thong is more culpable than a woman wearing more material in their underwear".
For details of the group meetings contact 085-1492977.