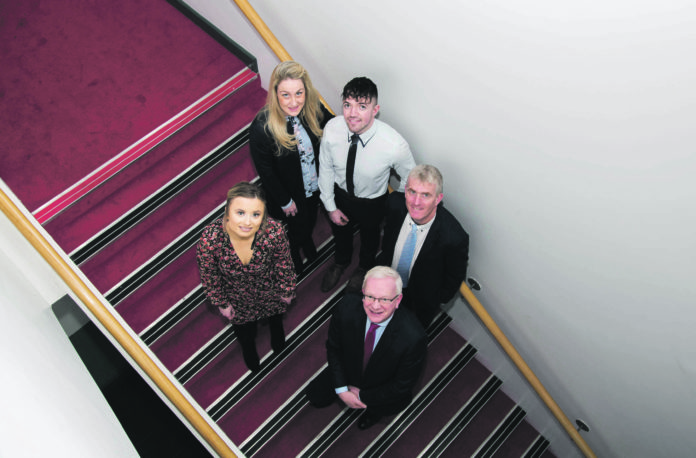 MORE than a hundred students were able to access third level education over the past five years because of a €1 million investment in the Limerick Institute of Technology (LIT) scholarship programme.
This academic year alone, 45 students received scholarships – 26 through the [email protected] Student Scholarship Programme and a further 19 through the Higher Education Authority's 1916 Bursary Fund.
Sign up for the weekly Limerick Post newsletter
The recipients, along with the donors who have contributed more than €1million to the scholarship fund, were recognised at a special ceremony earlier this week at LIT's Moylish Campus.
Congratulating the scholarship recipients guest speaker, Limerick's All Ireland Hurling Winning Manager and School Principal, John Kiely, compared them to a "great full forward" taking advantage of every opportunity.
"You have demonstrated that you have the work ethic and ability to achieve in your studies over the coming years and in your professional lives, and this scholarship will give you the best opportunity to maximise that potential.
"You are about to join an elite group of those that went before you, a group that can and will go on to make significant difference in many fields of work in Ireland, Europe and the world in years to come."
He had also this advice for the recipients:
"You have a cohort of a wonderful team beside you so put them to work, play with them, play hard, and get the most out of it."
In its fifth year the LIT student scholarships aims to alleviate financial strain experienced by targeted students, allowing the recipients to concentrate fully on their education and finish their course of study. The programme has proved hugely successful and popular among students who may otherwise struggle to attend college.
Social Care Student and Deputy President of LIT Students' Union, Jade Foynes said, "I may not be standing here today without the support of this scholarship. It has meant the world to me and my family.
"I am from Moyross, and I couldn't be more proud standing here today telling you my story and letting others know there is support available and that education is for all."
"I would encourage all the sponsors to never underestimate the difference you are making by investing in a student's potential. Your investment changes lives, it most definitely changed me," she said.
Shirley Costello from Scarriff, County Clare was one of the first people to complete her bursary application this year.
"The day I got the phone call to say I got the bursary a weight was lifted off my mind. It was the best feeling ever. The bursary allowed me the freedom to focus on college."
Having left school just after her junior cert, Shirley acknowledged education took a back seat for a long time, and a series of jobs left her unfulfilled.
Then she opted to change the course of her life and return to education. She was drawn immediately to the renewable energy electrical engineering course at LIT as it would benefit her professionally and benefit the environment, but financing her time in college remained a concern. The 1916 Bursary allayed those concerns.
LIT President Professor Vincent Cunnane thanked the donors for both their financial contributions and other opportunities they provide for LIT students and graduates.
"While your support relieves students of financial concerns that would impact negatively on their study, your investment in the scholarship and the students goes far beyond that. It is a vote of confidence in the students' abilities and an acknowledgement of their value to their community, society and the future economy of the region. It is a vote of confidence in the next generation of leaders who may not have otherwise got their chance to shine. This benefits individuals, their families, communities and the region," he said.
by Tom McCullough
[email protected]