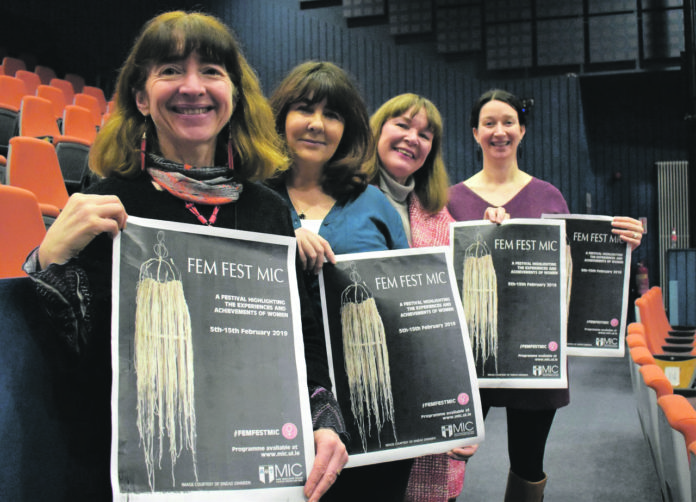 A FESTIVAL celebrating the achievements of women and discussing their experiences of various issues will take place in Mary Immaculate College from February 5 to 15.
The programme of events will include musical and theatrical performances, art exhibitions, lectures, seminars on topics such as women in the film and sports arenas. Most of the events are free to attend.
MIC lecturer and chair of the organising committee, Dr Dorothy Morrissey, said that the inspiration for Fem Fest came from a successful production of Eve Ensler's The Vagina Monologues by the college's female staff and postgraduate students for International Women's Day last year.
They chose to hold the event in February because the month opens with the feast of St Brigid and February 14, or V-Day, is a global activist movement to end violence against women and girls.
"It's a great honour to be a part of an event honouring the diversity of women's experiences and achievements since the 1880s. MIC itself was founded in 1898 and run, at its outset, by women for women. It is fitting, therefore, that MIC should host a festival about women's experiences and achievements. So come along and either sit back and enjoy what is on offer or add your voice to the conversations that will unfold," said Dr Morrissey.
Festival highlights include the Irish Women's Writing Network Seminar on Friday, February 8 when Martina Devlin will read from her recently published collection of short stories, Truth and Dare: Stories About Women Who Shaped Ireland.
On Tuesday February 12, Fem Fest hosts a sports event highlighting and acknowledging the often overshadowed sporting achievements and leadership of MIC's female students and staff, both past and present.
Other events include readings by performance poets, two art exhibitions that will run throughout the festival, and theatrical performances.
Staff across a range of disciplines and departments will also provide lunchtime lectures on such diverse topics as representations of girlhood in Peter Pan (Jade Dillon); MIC's first graduates (Dr Paul O'Brien); Paula Meehan's poetry (Dr John McDonagh) and the representation of female migrants in contemporary Irish literature (Dr Marita Ryan).
 In addition, some of MIC's lecturers will open their classes to the college community and to the public as part of Fem Fest.
For more information, see www.mic.ie.
by Kathy Masterson