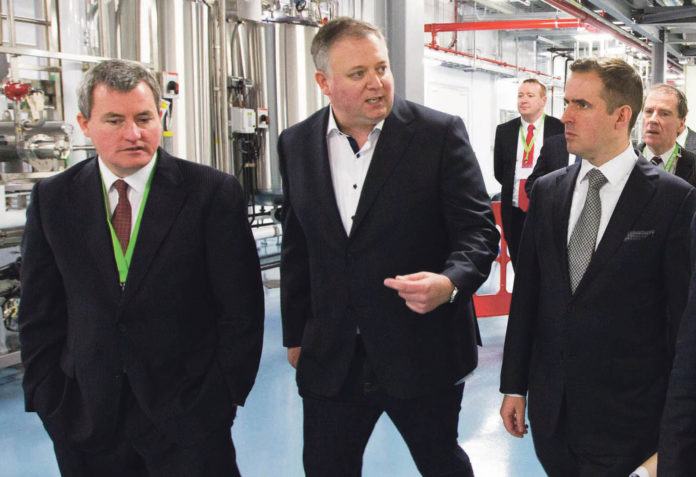 LIMERICK is set for a jobs bonanza as plans are announced for biotech leader, Regeneron to spend €200 million expanding its operation in Raheen.
The company has confirmed that it plans to expand its current complex by more than half and to build a state of the art research and development facility on site.
The company is to increase the size of its 400,000 sq ft Raheen campus by an additional 240,000 square feet.
The expansion will include an 800-space multi-storey car park, giving support to speculation that new jobs will be created in their hundreds to add to the current workforce of 1,200, which is made up of 800 permanent staff and 400 on-site contractors.
Regeneron has already pumped more than €1billion into its Limerick facility over the past five years.
In an interview with the Sunday Business Post, company Vice-President Niall O'Leary said they "have not finished spending".
Mayor of Limerick City and County James Collins said the money the company was investing in the Raheen plant showed their commitment to Limerick.
And he called on the government to provide a proper transport infrastructure for the hundreds of new workers at the expanded Raheen plant.
Stating that a radical re-imagining of the transport network connecting the suburbs to the city was needed, he confirmed that consultants had been engaged to develop a transport plan for the Limerick and Shannon Metropolitan area.
"We are planning new bus connections for the Mungret Raheen Dooradoyle area to cater for the growth of companies like Regeneron. We are also planning new bus corridors and a park and ride facility to cater for projected population growth in the Castletroy area.
"Limerick needs to plan now for the transport system we will need in five years time if we continue to grow at a rate of 3,000 new jobs a year. We want an ambitious future-proof transport plan and we want the Government to prove it is serious about promoting balanced growth of the regional cities," he declared.
Metropolitan Mayor Daniel Butler said it was a huge turning point for Limerick city to have a biopharmaceutical company of the calibre of Regeneron in the area.
"The level of expansion at Regeneron is reflective not just of their commitment to the area but also the calibre of employees available in the region. It's a great signal that we're doing something right in Limerick," he said.
Limerick Senator Kieran O'Donnell described the expansion as "a serious vote of confidence in what we offer here, in terms of workforce, third level institutions, connectivity and quality of life.
He added that it would involve the expansion of the Raheen facility by 60 per cent and the creation of a large number of high-end jobs.