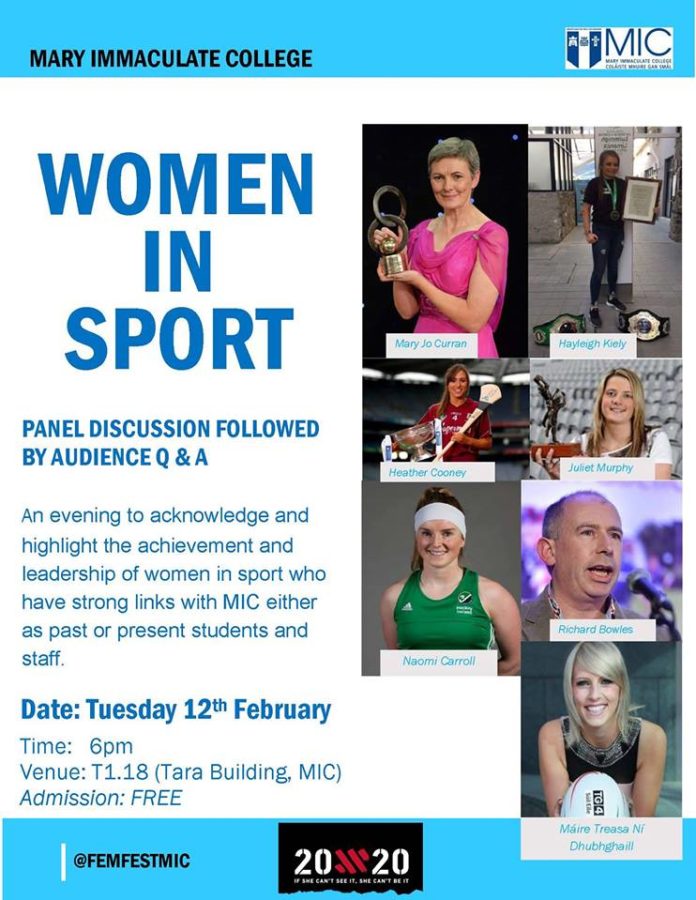 Mary I to host 'Women in Sport' event
next Tuesday as part of the MIC FemFest.
The panel discussion will take place
on Tuesday 12th February at 6pm in T.118. and is open to all staff, students
and the wider community.
The exciting panel is made up of
athletes and coaches from a wide range of sports including GAA, rugby,
kickboxing and golf.
Hayleigh Kiely is a first year B.Ed
student who has made her mark in martial arts and recently won two World Gold
medals in kickboxing.
Mary Jo Curran is a graduate of MIC
and a Kerry Football legend having won 10 Senior All-Ireland titles with Kerry
along with 10 All Star awards. She was awarded the 2013 Hall of Fame award at
the TG4 All Star awards. Her playing achievements also extend to golf and
basketball, and she has extensive Gaelic football and basketball coaching
experience.
Heather Cooney is also a graduate of
MIC and has been captain of the Galway Senior camogie team and part of the
senior team since 2010, progressing from the All Ireland Intermediate winning
team.
Juliet Murphy is another ladies'
football legend, having captained Cork to all-Ireland senior titles on 3
occasions. She was also a key member of the MIC Lynch Cup winning team in 2010.
Richard Bowles will be known by most
at MIC as a lecturer in physical education and coach of the college ladies'
football teams since 2007.
Naomi Carroll is well known across a
number of sports and has been involved in many teams including the Irish Hockey
Team, Clare camogie and football. Naomi is recovering from a cruciate operation
and keeps us updated on her progress through her weekly blog.
Another graduate of MIC and
well-known face of "RUGBAÍ BEO" on TG4, Máire Treasa Ní Dhubhghaill will MC the
evening.
The following facebook event page can
be followed and shared also – (https://www.facebook.com/events/1216000171886833/)
The post Mary I to host 'Women in Sport' event next Tuesday appeared first on Sporting Limerick.